The 10 greatest Phil Collins-era Genesis songs, ranked
4 March 2020, 07:00 | Updated: 4 March 2020, 07:06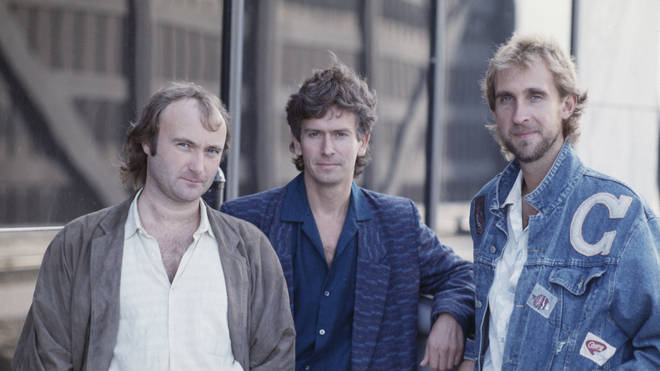 Genesis were already a hugely popular band when frontman Peter Gabriel left the band in 1975, but they became arguably the world's biggest band when they tweaked their sound when Phil Collins took over as lead singer.
Previously a progressive rock band with Gabriel out in front wearing flamboyant outfits, Genesis became stadium-fillers when rebooting as a trio consisting of Phil Collins, Mike Rutherford and Tony Banks.
They scored hit after hit around the world, and capitalised on the MTV generation. Here are their greatest songs after drummer Collins walked to the front of the stage:
I Can't Dance

From their We Can't Dance album from 1991 album, originally the band did not think of it as anything more than a joke, as the song was so simple, too bluesy and not like anything they'd done before.

Tony Banks later said: "It was one of those bits you thought was going to go nowhere. It sounded fun, but wasn't really special". It was only when Banks added the keyboard sound effects that the song took on a whole different sound.

That's All

This 1983 track from their self-titled album was actually their first to break into the States.

The song was written as an attempt to write a pop song with a simple melody in the style of The Beatles. Phil Collins later said that the song features one of his attempts at a "Ringo Starr drum part".

Mama

A truly bizarre song that shouldn't work, but boy it does. It is known for its distinctive and drum machine sound and minimalist synthesizers.

The song, about a young man's longing for a certain prostitute, remains the band's biggest hit in the UK, reaching number 4.

In Too Deep

Taken from their Invisible Touch album this gave Genesis another top 10 hit in the States.

The song was written by Phil Collins after he was asked to write a song for the soundtrack of the movie Mona Lisa.

Jesus He Knows Me

Also from their We Can't Dance album, this song is a satire of televangelism, released at a time when several preachers such as Jimmy Swaggart, Robert Tilton and Jim Bakker were under fraud investigations.

Phil himself took on the role of a dodgy televangelist in the video, which was nominated for a Brit Award.

Follow You Follow Me

This was the song that gave Genesis their first hit single in 1978, and perhaps made the band stand up and think 'oh, maybe we can do this more often?'.

The song was a departure from most of the band's previous work as a progressive rock band, featuring a simple melody and romantic lyrics. The band also said that they felt their music was attracting mostly male audiences, so this song was written to hopefully redress the balance, and it worked.

Land of Confusion

Another track from the Invisible Touch album, this was another top 10 hit in the States.

It was perhaps most famous for its Spitting Image music video, with the band being turned into puppets alongside famous folk of the era ranging from Ronald Reagan to Princess Diana.

Misunderstanding

A track from their 1980 album Duke, it was originally written by Phil Collins during the recording of his debut solo album Face Value. However, it ended up being donated for Genesis instead.

According to Collins, the song was a homage of sorts to The Beach Boys' 'Sail On, Sailor', Sly and the Family Stone's 'Hot Fun in the Summertime' and Toto's 'Hold the Line'.

Tony Banks said: "All three of us were fans of The Beach Boys, so when Phil brought the song to the writing sessions, we thought it would be a fun one to work on. It has a California, summertime, surfer vibe to it that was unlike anything else we'd worked on in the past."

Invisible Touch

We command you to find a better series of key changes in one song!

Taken from their 1986 album of the same name, this song gave Genesis their only number one hit in the States.

The song came about during a jam session, with Rutherford playing a guitar riff while Collins improvised the line "She seems to have an invisible touch". Despite liking the song himself, he has claimed that he didn't think it would be a hit.

Turn It On Again

Taken from their 1980 album Duke, this song, with lyrics by Mike Rutherford, is about a man who does nothing but watch television, becoming obsessed with the people he watches on it, believing them to be his friends. They were truly ahead of their time!

It was actually built from leftovers from projects by each member, and it gave them a top 10 hit.