James Taylor's 10 greatest songs ever, ranked
12 March 2020, 12:08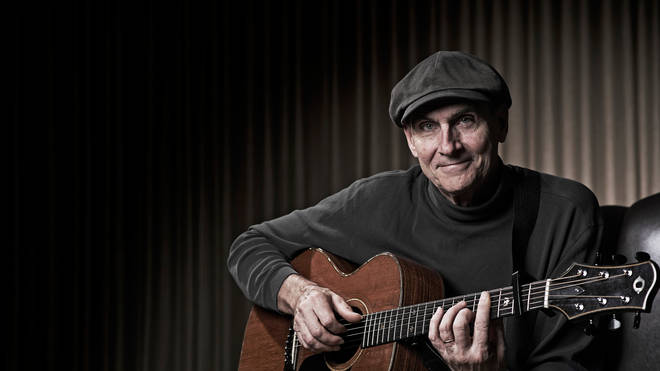 James Taylor is one of the greatest singer-songwriters of all time, and a trailblazer of the generation of artists that brought folk and pop to the mainstream.
To celebrate his latest album American Standard, we've picked 10 of his greatest ever songs to make for a perfect James Taylor playlist:
Wichita Lineman

As part of his 2008 Covers album, James Taylor recorded a version of Jimmy Webb's 'Wichita Lineman', made famous by Glen Campbell.

The song helped Taylor win a Grammy Award, with Webb later saying: "When you get something recorded by a fantasy figure like that, you definitely get to hear the song again. To have that reaffirmed by someone of James Taylor's stature, and to have the record come out sounding not just good but truly great, it's a little surprising".

Taylor later performed the song at the White House in 2011.

Golden Moments

This was the final track on James Taylor's seventh album, which saw him collaborating with many of his fellow pop star friends, including Art Garfunkel, Carly Simon (his wife at the time), Stevie Wonder, David Crosby, Bonnie Raitt and Linda Ronstadt.

This track was later included on his Best Of compilation in 2003.

Up on the Roof

Written by Carole King and Gerry Goffin, it was first recorded and made famous by The Drifters in 1962.

James Taylor played guitar on King's own cover of the song in 1970, and duetted with her on the song at their Carnegie Hall concert in 1971. He later recorded his own version in 1979.

In 2001, he played it at The Concert For New York City following the 9/11 terrorist attacks, where he introduced it as representing his and the writers' positive feelings for the city.

Carolina In My Mind

A track from his self-titled debut album, this song references Taylor's years growing up in North Carolina. He wrote it while working overseas, recording for the Beatles' label Apple Records.

He started writing the song at producer Peter Asher's London flat, resumed work on it while holidaying on the Mediterranean island of Formentera, and then finished it while stranded on the nearby island of Ibiza with Karin, a Swedish girl he had just met. As you do.

The song summed up Taylor's homesickness at the time, as he was missing his family, his dog and his home state.

It has since been called an unofficial state anthem for North Carolina, and is the unofficial song of the University of North Carolina at Chapel Hill.

You Can Close Your Eyes

Taken from Taylor's 1971 album Mud Slide Slim and the Blue Horizon, this song has been described as a lullaby and was first recorded by his sister Kate Taylor.

Taylor has confirmed that the song was written for his then-partner Joni Mitchell. It was written while Taylor and Mitchell were staying in a hotel in Tucumcari, as Taylor was filming Two-Lane Blacktop.

You've Got a Friend

Carole King first recorded this ballad on her iconic album Tapestry in 1971. James Taylor, who provided backing on the song, recorded his own version the same year and scored an even bigger hit with it.

King has said that "the song was as close to pure inspiration as I've ever experienced. The song wrote itself. It was written by something outside myself, through me."

Taylor later said that King told him that the song was a response to a line in his song 'Fire and Rain': "I've seen lonely times when I could not find a friend."

Sweet Baby James

Taken from the album of the same name, Taylor has said that this is the best song of his career.

The song was written by Taylor for the son of his older brother Alex, who was also named James (and was named after him).

It was deliberately written as a mix of cowboy song and a lullaby, and was first thought up while he was driving through Carolina to meet his nephew for the first time.

How Sweet It Is (To Be Loved By You)

Marvin Gaye first recorded this song in 1965, and James Taylor released an inspired soft rock cover version 10 years later.

Taken from his album Gorilla, it also featured his then-wife Carly Simon on backing vocals.

Something in the Way She Moves

This romantic song sees James Taylor speak of a woman he greatly admires, especially how she handles herself and the sound of her voice.

He re-recorded the song for his 1976 Greatest Hits album, as he was unable to obtain the original's rights.

George Harrison liked the song so much that he used the beginning as the first line of his 1969 song 'Something'. Taylor didn't mind, as he said the ending of this song was taken from the Beatles' 'I Feel Fine', and so "what goes around comes around".

Fire and Rain

The second single from James Taylor's second album, he explained the song was about several incidents during his early recording career.

The second line 'Suzanne the plans they made put an end to you' refers to Suzanne Schnerr, a childhood friend of his who committed suicide while he was in London, recording his first album. Friends at home, concerned that it might distract Taylor from his big break, kept the tragic news from him and he found out six months later.

The second part details Taylor's struggle to overcome drug addiction and depression, while the third was about his deep depression after the failure of his band The Flying Machine ('Sweet dreams and Flying Machines in pieces on the ground').

Carole King played piano on the song, and she later said her song 'You've Got a Friend' was a response to the line 'I've seen lonely times when I could not find a friend'. The song and its album Sweet Baby James was produced by Peter Asher, one half of Peter and Gordon.