Keith Urban's 10 greatest songs ever, ranked
4 September 2019, 14:33 | Updated: 4 September 2019, 16:30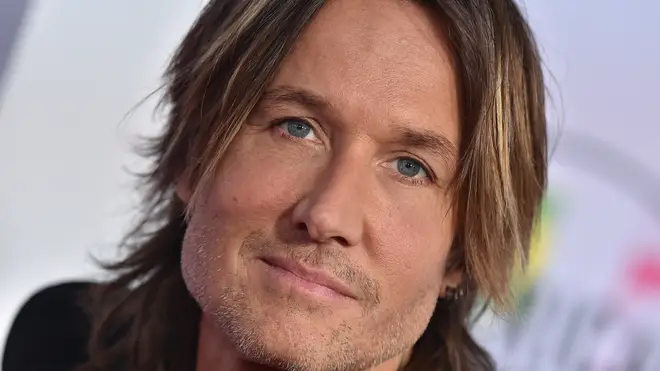 Keith Urban is one of the biggest and most successful names in country music, with a career spanning nearly 30 years.
The New Zealand-born Australian singer has released 11 studio albums and has had 20 number ones on the US Billboard Country Chart: pretty impressive!
He married actress Nicole Kidman in 2006, and has won four Grammy awards in a glittering career. We've picked our favourite Keith classics to celebrate the great man:
Parallel Line

Keith Urban - Parallel Line (Official Lyric Video)

This sample of Coldplay's 'Everglow' was written by Ed Sheeran (and 10 others, including Chris Martin et al.)

Urban's voice is sincere and pleading, with a sense of urgency, and the song builds toward a very powerful choral section in the middle. Yet another success from the Ed Sheeran Hit Factory.

Never Coming Down

Keith Urban - Never Comin Down (Official Music Video)

Our second selection from Keith's recent Graffiti U album, is a hand-clapping, foot-stomping romp of a song, that proves he's still got it, even in 2019.

The song possesses enough hooks to hang a whole wardrobe on, with a funky bassline, and poppy chorus – no surprise given that it was co-written by James Abrahart, who has also written hits for Little Mix and Justin Bieber.

Days Go By

Urban's fifth country number one is a wholly positive take on life, and how to make the most of it.

The mandolin gives the chorus a sweet sound, and the standard Urban hard driving guitar is in full effect throughout.

We challenge you not to nod your head and sing along by the end, particularly the 'take them by the hand' refrain towards the end.

I Told You So

Taken from the Love, Pain and the Whole Crazy Thing album, this song sees Keith playing SEVEN instruments: electric guitar, acoustic guitar, the ganjo (that's a half guitar, half banjo), the bouzouki, the mandolin, the slide guitar and some percussion – plus all the backing vocals.

He must have been knackered after that day in the studio...

Tonight I Wanna Cry

Keith Urban - Tonight I Wanna Cry Offical Music Video HQ with lyrics

If there's a more heartbreakingly beautiful song about a man desperately facing up to the fact that his relationship is over, we don't want to hear it.

This is Keith at his most vulnerable, narrating a situation that unfortunately nearly all of us can relate to. Pass us the tissues.

Somewhere in My Car

Keith Urban - Somewhere In My Car (Official Music Video)

This song immediately digs its claws in to you with its ganjo intro and thumping bass drum, leading to a pounding chorus as Keith remembers a highlight of a failed relationship – there's a theme developing, but it is country music, after all.

Once again, Keith's incredible guitar playing is front and centre, and his solo is pure 80s hair metal. Somehow a breakup song leaves one feeling euphoric by the end, a testament to the song's theme of escapism.

Somebody Like You

Keith Urban - Somebody Like You

The earliest song in this countdown, you might know it from the film How to Lose A Guy in 10 Days. It was named by Billboard as the best country song of the 2000s - quite the accolade!

Relentlessly upbeat, with an early insight of Keith's excellent talent as an axeman, this is Keith once again bridging the gap between country and rock effortlessly. What's more, the song lasts over 5 minutes, meaning even more Keith for your buck.

Blue Ain't Your Color

Keith Urban - Blue Ain't Your Color (Official Music Video)

From the 2016 album Ripcord, this song has a real 1950s feel to it, perhaps aided by the black and white music video (which features the model and actress Amber Valletta).

Keith sings sweetly on this smooth slow jam about a man observing a lonely looking woman at a bar who is unhappy in her current relationship.

The lyrics are clever, and the soothing track is a great showcase for Keith's relaxed delivery.

Raining on Sunday

Keith Urban - Raining On Sunday

This is actually a cover of Radney Foster's original, that Keith included on his Golden Road album in 2002.

A beautiful love song about putting the world on hold, so the couple in question don't have to deal with all the stressful and difficult things they experience in their day to day life, and just staying in bed because it's 'Raining on Sunday'.

That feeling that the world can wait, when you're so loved up and in your own relationship bubble, has never been summed up so well.

You'll Think of Me

Keith Urban - You'll Think Of Me (Official Video)

In another song about another breakup, the protagonist tell us his lover has 'found someone else's arms'.

The narrative deals with the introspection of a failed relationship, and the dreaded collecting of belongings left behind, as a bitter Keith tell us he's convinced that whatever his ex says about her new life, he'll still be in her thoughts.

It features the misheard lyric 'take your cat, and leave my sweater' with many people mistakenly thinking the lyric was actually 'take you cap'. It was for this song, that Keith won his first Grammy Award for Best Male Country Vocal Performance in 2006.
To hear all your favourite country artists 24/7, tune in to Smooth Country: Just Great Country.