9 classic songs you didn't know were covers
3 January 2020, 15:47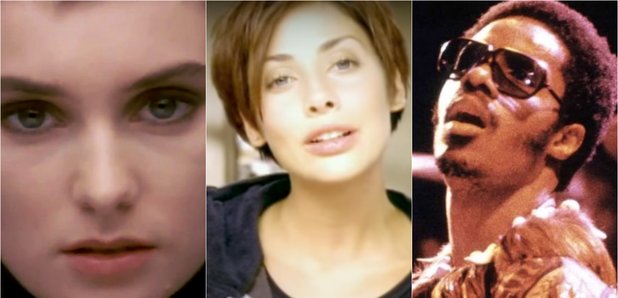 How many times have you discovered a brilliant song by one of your favourite artists, only to later learn that it was actually a cover version?
Covers can sometimes be even better than the original, while others take on such a life of their own that most people don't even realise that someone else recorded it first.
We've collected a handful of amazing tracks which were actually created by a completely different artist...
1. Soft Cell - 'Tainted Love'
We all may know and love Soft Cell's huge 1981 synthpop classic, but this song was originally a Northern Soul anthem by Gloria Jones in 1964.
Marc Almond's group slowed down the tempo, brought in the synths, and it became hugely more famous and popular than the original.
2. Sinead O'Connor - 'Nothing Compares 2 U'
Sinead O'Connor scored a huge international number one with this ballad in 1990, but it was originally a song by Prince.
The legendary singer wrote it for his side project The Family five years earlier. Sinead changed the arrangement, and thanks to an emotional video, it became a huge success.
3. Natalie Imbruglia - 'Torn'
This pop rock classic was originally recorded in 1993 by Danish singer Lis Sørensen, and then by co-writers Scott Cutler and Anne Preven's American band Ednaswap.
It wasn't an internationally-known hit until Australian star Natalie got her hands on it in 1997 as her massive debut single.
4. Cyndi Lauper - 'Girls Just Wanna Have Fun'
Amazingly, this song was originally written from the male perspective about women in the bedroom by Robert Hazard in 1979.
Four years later, Cyndi's version carried a totally different feminist attitude, portraying that all women really wanted was to have the same experience that men could have. It went on to become one of the biggest hits of the 1980s.
5. George Harrison - 'Got My Mind Set on You'
James Ray first recorded this track as a soul tune in 1962.
It perhaps wasn't well known until Beatle George Harrison released a cover version in 1987. It became George's third and final (and final of any Beatle to date) number one in the US, and hit number two in the UK.
6. Roberta Flack - 'Killing Me Softly With His Song'
Folk singer Lori Lieberman first recorded this song in 1971, but it became much bigger hit for Roberta Flack two years later.
Flack's version was transformed into a slowed down soulful ballad, and topped the US charts. It was later covered as a hip-hop anthem by the Fugees in 1995.
7. Kim Carnes - 'Bette Davis Eyes'
Donna Weiss and Jackie DeShannon first wrote this song in 1974, with DeShannon recording the first version. It was originally a light R&B track, with an uptempo piano part.
It wasn't until 1981, when Kim Carnes recorded her version with a synth-arrangement, that it became an international hit. It spent nine weeks at the top of the US charts.
8. Stevie Wonder - 'Superstition'
Wait, what? Well, technically Stevie covered his own song. Stevie wrote this song for Jeff Beck for 1972, and the original plan was for Jeff to release it soon after.
However, due to delays and Motown founder Berry Gordy's insistence that Stevie would be crazy not to release it himself, Stevie's version was brought slightly forward.
9. Tina Turner - 'What's Love Got To Do With It?'
You'll never guess who recorded this '80s soulful ballad first. It was, of all people, Bucks Fizz!
The 'Making Your Mind Up' group were the first to record the song, after the likes of Cliff Richard and Donna Summer turned it down. However, it was never released after Tina released her version first. And the rest is history.