Wet Wet Wet's 'Love Is All Around' turns 25: Who was number two for all 15 weeks?
28 May 2019, 16:47 | Updated: 29 May 2019, 13:15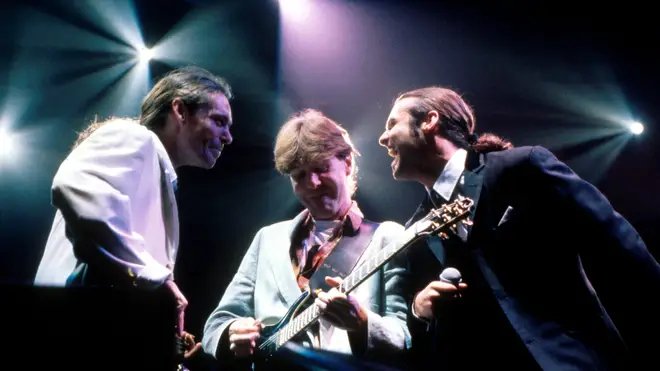 25 years ago today (May 29), Wet Wet Wet started their UK singles chart ownership in the summer of 1994.
'Love is All Around' - a cover of the Troggs classic - became a huge hit after its use in Hugh Grant's Four Weddings and a Funeral.
Wet Wet Wet - Love Is All Around (Official Video)
It proceeded to spend 15 long weeks at the top, before Whigfield dethroned the Scottish band with 'Saturday Night', but only when the single was deleted on Wet Wet Wet singer Marti Pellow's insistence, after realising people were complaining about the whole thing.
But what were the unlucky songs that had to settle for second place that summer?
Manchester United - 'Come On You Reds' (1 week)

Status Quo -Status Quo & Man Utd -Come on you reds

Technically, this doesn't count as it was number one for two weeks before Wet Wet Wet came along, but we're including it.

At a time when football clubs still recorded songs for the FA Cup final and people actually bought them, the United squad included Cantona, Giggs and Schmeichel, and also featured Status Quo as guest writers and backing singers.

Big Mountain - 'Baby I Love Your Way' (3 weeks)

Big Mountain - Baby I Love Your Way(1994)

Reggae was massive in 1994, and this was one of the biggest summer gems.

A cover of Peter Frampton's 1975 track, this version was even more successful on both sides of the Atlantic.

It appeared on the soundtrack of the Winona Ryder film Reality Bites, and it was the US band's biggest hit.

All-4-One - 'I Swear' (7 weeks)

Ah, poor All-4-One.

People may think of Ultravox's chart travesty against Joe Dolce's 'Shaddap You Face', but where's the sympathy for these guys?

In another timeline, 'I Swear' would no doubt be known as one of the best number ones of the 1990s, but it had to settle for being the Jimmy White of the UK charts.

Originally a country song by John Michael Montgomery, the R&B four-piece recorded a super smooth version, reaching the top of the US charts for 11 weeks. So, not all bad, then.

Let Loose - 'Crazy for You' (2 weeks)

Let Loose - Crazy For You

This is a criminally-underrated pop gem of the 1990s. Let Loose were known as a boyband, but they actually played their own instruments and wrote most of their own songs. So, they were essentially a '90s equivalent of The Script or Maroon 5.

Originally released in 1993, the single came out again a year later, and performed much better. After a few more hits and two albums, they split in 1996.

Red Dragon with Brian & Tony Gold - 'Compliments on Your Kiss' (1 week)

Do you remember this reggae tune?

Jamaican DJ Red Dragon had tasted some success in his homeland, and in reggae circles, but scored a surprise hit in the '90s after teaming up with dancehall duo Brian and Tony Gold.

Kylie Minogue - 'Confide in Me' (1 week)

Kylie Minogue - Confide In Me (Video)

Pop legend Kylie pulled off a surprise image change in 1994, with the release of her self-titled album, and its lead single 'Confide in Me', which landed straight at number two, a rarity at the time.

The Bond theme-style song became a fan favourite, and spearheaded Kylie's brief resurgence in the mid-1990s, before her proper comeback in 2000.