Adele in tears as she is forced to reschedule Las Vegas residency
20 January 2022, 23:08 | Updated: 21 January 2022, 08:31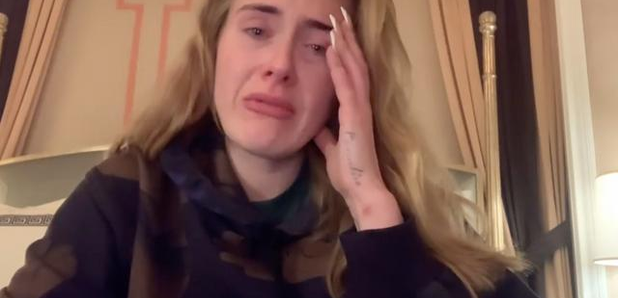 Adele was in tears as she announced she had to reschedule the start of her Las Vegas residency because of COVID.
"We've been up against so much and it just ain't ready. I'm so sorry," the star said on social media.
"We've tried absolutely everything that we can to put it together in time and for it to be good enough for you.
"But we've been absolutely destroyed by delivery delays and COVID.
"Half my team, half my crew are hit by COVID. They still are and it's been impossible to finish the show."
Adele, 33, had been supposed to do two concerts each weekend from 21 January until 16 April in the US city.
"I'm gutted. I'm gutted and I'm sorry it's so last minute."
She said she was "so upset and embarrassed" but "it's been impossible".
Adele said all dates would be rescheduled.
The British singer's fourth studio album, 30, was revealed to be the fastest-selling of the year in its first week of release.
A famous and highly lucrative residency
Adele was due to join the likes of Celine Dion, Sir Elton John, Madonna, Mariah Carey and Rod Stewart at the famous Colosseum theatre, which has 4,300 seats.
Usher was the most recent resident at the venue and ended his stint earlier this month.
Long-running residencies can bring in millions of dollars for artists through ticket and merchandise sales.
Announced late in November, the Weekends With Adele series was scheduled to have the singer performing two shows every weekend until April.
Tickets ranged from $85 (£60) to $685 (£500), and Adele was forecast to make more than £500,000 per show.
They would have been her first live concerts in five years.
Along with two dates in London's Hyde Park this summer, they are the only shows she has announced to promote her album 30.
A mix of support and anger from fans
Many fans have been supportive of Adele on social media - saying it was the right decision and wished her and her team well.
Student Ashley Lee Thompson, 21, flew to the US from Dublin as part of a holiday that included seeing Adele in Las Vegas.
She told Sky News that the show was a birthday surprise for a sister and she was "over the moon" to get tickets but is not sure if she will be able to attend a rescheduled show.
"She's my favourite artist and I felt so lucky too because getting tickets for her is like winning the lottery. We are devastated about the cancellation but I also knew this was a big possibility since the moment I bought my tickets, this pandemic is unpredictable," she said.
Ms Thompson added that she felt bad for Adele "because we all know how much she cares about her art and her fans".
"I have been here for a week now, her concert was part of the trip but we surely have more stuff to do, I think we're going to visit some casinos and that's it. Flights are way too expensive and I don't know if I will have enough money to do it," she added.
But some fans expressed their anger at the last-minute cancellation.
One fan questioned why the announcement was made at such short notice.
"I am on a plane to Vegas RN w/ my hotel booked for tomorrow's opening night," Twitter user @grow_land wrote.
"You must've known the show wasn't ready yesterday. Yes, covid but you can cancel things like 3 days b4. It's cruel to wait 26 hrs until 1st should."
(c) Sky News 2022: Adele in tears as she is forced to reschedule Las Vegas residency