Dolly Parton reveals details of first rock album - featuring some very famous friends
10 May 2023, 08:01 | Updated: 12 May 2023, 12:43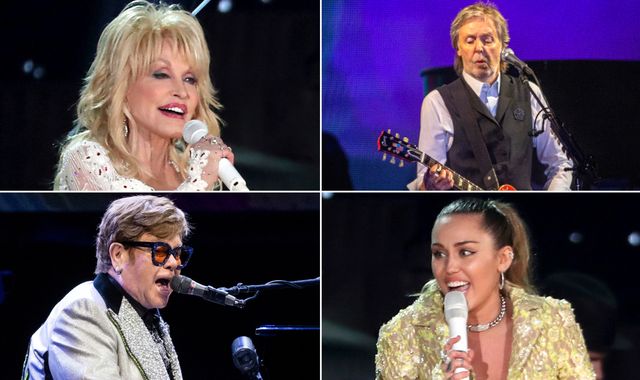 Dolly Parton has revealed details of her first ever rock album - featuring collaborations with some of music's biggest stars.
Rockstar, due for release in November, features tracks with artists including Sir Paul McCartney, Sir Ringo Starr, Sir Elton John, Sting, Lizzo, and Parton's goddaughter Miley Cyrus.
Other collaborators include US musical heavyweights Sheryl Crow, Chris Stapleton, Stevie Nicks, Debbie Harry, Simon Le Bon, Joan Jett, Pink, and Brandi Carlile.
The country music legend, 77, described creating the record, which features nine original songs along with 21 covers of famous tracks, as "a joy beyond measure".
"I'm so excited to finally present my first rock and roll album, Rockstar," she said in a statement.
"I am very honoured and privileged to have worked with some of the greatest iconic singers and musicians of all time and to be able to sing all the iconic songs throughout the album was a joy beyond measure.
"I hope everybody enjoys the album as much as I've enjoyed putting it together."
The album comes after Parton's induction into the Rock And Roll Hall Of Fame in 2022. The star initially resisted the honour, saying she had not "earned the right" to join rock's greats. However, she added that the nod had inspired her to release a rock and roll record.
Following fan protests, the star changed her mind and decided to accept the accolade "gracefully" - promising to "live up to the honour" - and headlined the 2022 ceremony in Los Angeles in November.
Rockstar's lead original track, World On Fire, will be released on Thursday to coincide with its world premiere performance at the Academy Of Country Music (ACM) awards.
Parton said she hopes the song will "maybe touch enough people to want to make a change for the better".
Famous collaborations on the album include Don't Let The Sun Go Down On Me, with Sir Elton, and The Police's Every Breath You Take with Sting.
Read more:
Meeting my hero Dolly Parton
Facebook fan page rule deals devastating blow to tribute acts
Sir Paul and Sir Ringo have collaborated on Let It Be, which also features guest appearances from Peter Frampton and Mick Fleetwood.
The star duets with Cyrus on Wrecking Ball, and Blondie star Harry on Heart Of Glass.
(c) Sky News 2023: Dolly Parton reveals details of first rock album - featuring some very famous friends