Adele condemns police violence following death of George Floyd
3 June 2020, 12:09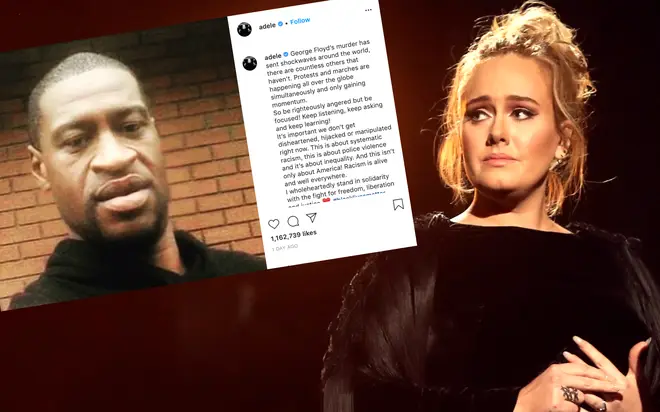 Adele has become the latest celebrity to condemn police violence against black people following the death of George Floyd in America.
George Floyd's death triggered widespread protests across the US, with similar protests across the world including the UK and Ireland.
A video showed that at least four Minneapolis police officers were involved in the arrest, with three using their bodyweight to pin George to the floor, with one officer, Derek Chauvin, holding his knee against George's neck for several minutes.
Adele shared a picture of George to her Instagram, writing: "George Floyd's murder has sent shockwaves around the world, there are countless others that haven't. Protests and marches are happening all over the globe simultaneously and only gaining momentum.
"So be righteously angered but be focused! Keep listening, keep asking and keep learning!
"It's important we don't get disheartened, hijacked or manipulated right now. This is about systematic racism, this is about police violence and it's about inequality.
"And this isn't only about America! Racism is alive and well everywhere.
"I wholeheartedly stand in solidarity with the fight for freedom, liberation and justice. #blacklivesmatter #georgefloyd #saytheirnames."
Derek Chauvin has been charged with third-degree murder and manslaughter and will appear in court next week. Three other police officers have been fired.
George, 46, suffered a cardiac arrest while being restrained by Minneapolis police, with his death declared a homicide in an official post-mortem examination.
It listed George's cause of death as "cardiopulmonary arrest complicating law enforcement subdual, restraint, and neck compression", with George dying from asphyxia due to a compression on his neck and back.
Yesterday, the music industry stopped as part of the #blackouttuesday campaign, with several artists backing the campaign, including Billy Ocean, The Beatles, Boy George, Sting, Elton John and many more.