The 10 greatest (and most devastating) breakup songs ever
30 January 2020, 16:07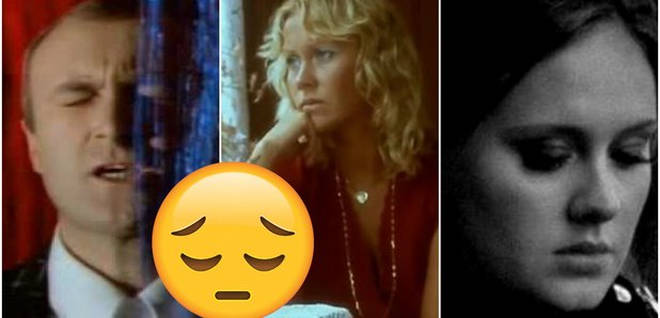 Feeling heartbroken over some kind of breakup? We feel you, pal. We've all been there.
There's only one thing for it when you're feeling like this. A playlist of pure heart wrenching breakup tunes - whether they're soppy, angry or defiant, they always do the trick.
Here's our list of the 10 ultimate breakup anthems:
Air Supply - 'All Out of Love'

If you're looking for an all-out unashamed power ballad of pure 'I don't care if I look pathetic' amazingness, then this track from 1980 is for you.

The pop song equivalent of begging on your knees to be taken back.

Willie Nelson - 'Always On My Mind'

Read more: The Story of... 'Always On My Mind'

Elvis Presley and the Pet Shop Boys are among the other artists to give their take on this moving ballad, but you can pretty much hear country legend's heart actually break while singing it.

He has finally realised just how much his partner meant to him, and hopes there's some way he can win them back.

George Michael - 'A Different Corner'

Read more: The Story of... 'A Different Corner'

A truly heartfelt ballad from the perspective of someone who can't quite comprehend losing someone, when the other person seems totally fine.

George later said of the song: "I think you can tell that 'A Different Corner' is genuinely the sound of a man who's heart's been broken. I was 19 and the best critique I ever heard of that song was from a friend of mine who said, 'It's beautiful, pathetic, but beautiful.'".

Al Green - 'How Can You Mend a Broken Heart?'

The Bee Gees first released this ballad in 1971, but it's Al Green soulful cover a year later which takes it to a completely different place.

Al's delivery is full of pain and regret after a once-brilliant romance has come to an end.

Adele - 'Someone Like You'

One of the most emotional ballads in recent years, Adele wrote this song after being dumped by an ex-boyfriend.

She later explained: "I can imagine being about 40 and looking for him again, only to turn up and find that he's settled with a beautiful wife and beautiful kids and he's completely happy... and I'm still on my own. The song's about that and I'm scared at the thought of that."

The Beatles - 'Yesterday'

It's the most covered song of all time for a reason, because it perfectly sums up the emotions after a breakup in such a simple fashion. 

Phil Collins - 'Against All Odds'

Taken from the movie of the same name, Phil later said that this song was inspired and written shortly after the breakup between him and his first wife, and you can hear the pain in his voice because of it.

Harry Nilsson - 'Without You'

Originally by Badfinger, Harry Nilsson took it to another level with his number one version.

Described by Paul McCartney as "the killer song of all time", Harry can't quite believe he's lost his beloved, and doesn't quite know what to do next. Heartbreaker.

Bill Withers - 'Ain't No Sunshine'

Read more: The Story of... 'Ain't No Sunshine'

OK, it may have Bill sing the line 'I know' 26 times in just over two minutes, but it's still one of the most heartbreaking ballads ever written. That's how good it is.

ABBA - 'The Winner Takes It All'

The Story of... 'The Winner Takes It All'

The ultimate song when it comes to signalling the end of a messy breakup and its aftermath.

Co-writer Bjorn Ulvaeus has denied that the song is about his and singer Agnetha Fältskog's divorce, saying the basis of the song "is the experience of a divorce, but it's fiction.

"There wasn't a winner or a loser in our case. A lot of people think it's straight out of reality, but it's not." Fictional or not, it's a tough one.