Queen's Brian May joined Matt Lucas for 'Thank You Baked Potato' duet - watch it here
14 April 2020, 14:40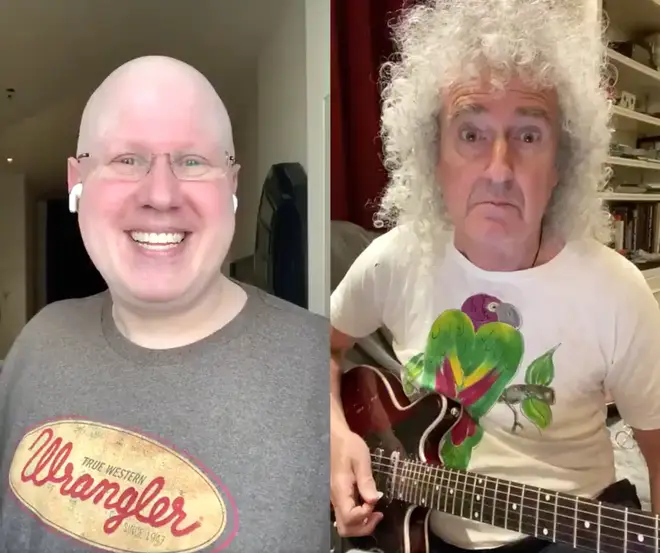 Queen's Brian May has joined Matt Lucas for a special virtual collaboration to perform Matt's charity single 'Thank You Baked Potato'.
The song, which aims to help raise money to feed NHS workers, is part of a new FeedNHS campaign created by Matt, actor Damian Lewis and his wife Helen McCroy.
Telly watchers will recognised the tune as a reworking of Matt's 'Baked Potato Song' from TV quiz show Shooting Stars.
Queen guitarist Brian has now got involved in the action, with the unlikely duo teaming up to perform a duet of the single.
Click here for the latest coronavirus advice from the NHS
Posting the video to his social media, Matt tweeted: "Life. Made. I love you @DrBrianMay."
The charity single charted at number two on the UK Singles Chart last week.
Speaking to Smooth's sister station, Matt told Official Big Top 40 listeners: "Thank you to everybody who downloaded it, you can still download it on thankyoubakedpotato.com, all the proceeds go to FeedNHS."
Brian posted the video to his Instagram, writing: "With the legendary Matt Lucas of Little Britain and beyond!!
"Sage advice (no - instructions) in these lyrics of course. I think this is a smash!! Or could it be a mash!!
Matt Lucas – Thank You Baked Potato #StayHome #WithMe #FeedNHS
"Visit Matt's campaign on Twitter to contribute to the charity this song benefits - to support the fight against the CoronaVirus... and Rock! Bri."
Brian told ITV: "It's a very hard time for everyone. This is a tragedy. But there are things to be grateful for. There's a lot of people who are in terrible times, and we're gonna lose a lot of people.
"It might be me, since I'm an elderly and vulnerable person. But, you know, it's not all bad — there are good things to look forward to, and this is only for now."
Brian May also teamed up with Gary Barlow for a video duet of 'Get Back' by The Beatles last week. Watch it here.