Global's Make Some Noise is raising money for children's charity CICRA
3 October 2018, 12:17 | Updated: 22 August 2019, 11:47
Global's Make Some Noise supports brilliant, small projects across the UK, which help youngsters and their families with illness, disability or lack of opportunity.
These charities struggle to get heard, so we unite some of the biggest radio stations in the UK to give them a voice and raise money to support their amazing work.
CICRA (Crohns in Childhood Research Association) are a national charity that supports children living with Crohn's Disease and Colitis. They provide vital support and advice for children and their families and lead on research into better treatments.
They also work with health professionals to improve care and to give children a voice to increase public understanding of Crohn's and Colitis. They support over 600 children and young people a year.
Smooth's Tina Hobley spoke to young people who have suffered from Crohn's Disease and Colitis, and how CICRA has helped them.
Lucy Frost, 18, was diagnosed with Ulcerative Colitis (UC) in 2013 aged 13, and has been hospitalised on several occasions. This year, Lucy spent a month in hospital and had emergency surgery, 6 days after her 18th birthday.
Watch her speak about her journey above.
She had to miss an entire year of school when she was first diagnosed, as well as her GCSE maths exam. Despite this, Lucy is very positive and tries to do everything her peers would do, but she gets tired quickly and finds strenuous activities hard to keep up with.
After her diagnosis, Lucy and her family used CICRA to find information and advice on how UC would affect her life. The charity paired her up with an 'e-pal' to talk to about her concerns, and was given a 'Can't Wait' card, allowing her to get to the toilet quickly when out in public.
Meanwhile, Luke Rolt, 16, has Ulcerative Colitis and his sister Katherine, 14, has Crohn's. Luke was unwell for a long time before he got diagnosed – he went to the doctors many times and was put on antibiotics but did not get better.
After losing a lot of weight and not eating, he had an emergency endoscopy and was put on steroids. He was in remission for two years, but his condition flared up recently and he is back on medication. Luke achieved his Bronze DofE last year but sadly, was too unwell to take part in his silver expedition in July this year.
Katherine was diagnosed with Crohn's in December last year after an endoscopy and was put on a liquid diet. However, she became more unwell and after four weeks of a liquid diet, she was put on steroids but still did not improve.
Her pain was so unbearable, she had to go to A&E and an MRI showed inflammation in her small bowel. She had to undergo further treatment to manage the inflammation and be well enough to be discharged from hospital.
Luke and Katherine have both been supported by CICRA to help them understand their conditions. They benefit particularly from the online service to find out about other youngsters like them and understand different ways of coping with their illness.
Global's Make Some Noise aims to raise at least £50,000 to fund an amazing new project, 'Giving Children with IBD their Childhood Back'. This will give support to children with inflammatory bowel disease and their families to help them deal with the impact of Crohn's and Colitis.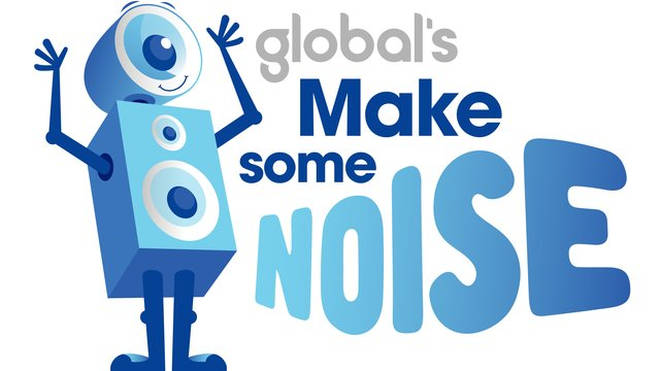 The condition is often misunderstood and can be very embarrassing for youngsters, as well as painful with long-term health implications.
Funding will enable the charity to hire a new Family Support Worker to help youngsters face these many challenges and understand how to cope with their condition and deal with emotional and practical issues.
They'll also be able to set up a new support line for children and young people and build their online community for youngsters to get peer support from others who understand what they're going through. This project aims to provide even more children the best chance of enjoying childhood, despite living with IBD.