19 of the greatest power ballads of all time
2 July 2018, 16:43 | Updated: 6 July 2018, 10:07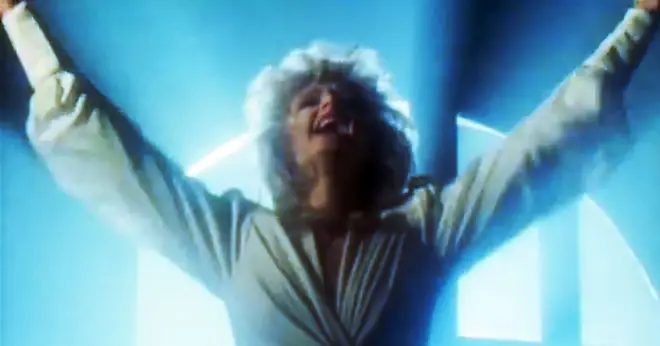 There's nothing quite like belting out your favourite power ballad at the top of your lungs...
Whether you're in the shower, in the car or at the karaoke, these are the greatest power ballads of all time.
In no particular order...
Seal - 'Kiss from a Rose'

Seal Kiss From a Rose official video

After writing this song, Seal felt "embarrassed by it" and "threw the tape in the corner". Seal did not present it to producer Trevor Horn until the recording sessions for Seal II. In 2015, Seal said of the song: "To be honest, I was never really that proud of it, though I like what Trevor did with the recording. He turned that tape from my corner into another 8 million record sales and my name became a household name".

It was originally released in 1994, but was later used in the soundtrack for Batman Forever in 1995. Director Joel Schumacher called Seal to request the song to play over a love scene. However, it was instead used to play over the end credits. This helped it reach number one in the States that year.

Meat Loaf - 'I'd Do Anything for Love (But I Won't Do That)'

Meat Loaf - I'd Do Anything For Love (But I Won't Do That)

It doesn't get more epic than this. Rock legend Meat Loaf had a surprise comeback in 1993, when this power ballad was one of the best-selling of the whole decade.

Meat Loaf has said that the question, "What is 'that'?" is one of the most popular questions he is asked. In case you didn't know, each verse mentions two things that the singer would do for love, followed by one thing that he will not do. The title phrase repetition explains that he "won't do that". Each mention of "that" is a reference to the particular promise that he made earlier in the verse. Got it?

Journey - 'Don't Stop Believin''

Journey - Don't Stop Believin' (Audio)

This track was a mild hit upon its release in 1981, but didn't even reach the UK top 40 at the time.

Fast forward to 2009, and its use in shows like Glee and The Sopranos helped bring it back into the mainstream, and it was a surprise hit around the world once again.

Bonnie Tyler - 'Total Eclipse of the Heart'

Bonnie Tyler - Total Eclipse of the Heart (Video)

Written by Meat Loaf's longtime collaborator Jim Steinman, this was a UK number one hit for Bonnie in 1983.

Steinman later said of the song's origins: "I was trying to come up with a love song and I remembered I actually wrote that to be a vampire love song. Its original title was 'Vampires in Love' because I was working on a musical of Nosferatu, the other great vampire story. If anyone listens to the lyrics, they're really like vampire lines. It's all about the darkness, the power of darkness and love's place in the dark..."

Bon Jovi - 'Always'

This song became one of Bon Jovi's most successful singles, selling 3 million copies worldwide in 1994.

It was originally written for the soundtrack to the 1993 film Romeo Is Bleeding. After disliking the movie – which was not a hit - the band decided not to lend it out. Jon Bon Jovi forgot about the song until a friend found it and convinced him to re-record and release it. Good move!

Prince - 'Purple Rain'

Prince - Purple Rain (Official Video)

Perhaps his most famous and celebrated song, this epic track was the main theme from the movie of the same name.It was originally written as a country song and intended to be a collaboration with Stevie Nicks.

Explaining the song, Prince said: "When there's blood in the sky – red and blue = purple... purple rain pertains to the end of the world and being with the one you love and letting your faith/god guide you through the purple rain."

Bryan Adams - 'Everything I Do (I Do it for You)'

Everything i do(i do it for you).flv

This rock ballad still holds the UK record for most consecutive weeks at number one.

While we might have got bored of it back in 1991, it remains one of the greatest love songs of all time. It was recorded for the movie Robin Hood: Prince of Thieves, but lost out to 'Beauty and the Beast' at the Oscars.

Phil Collins - 'Against All Odds'

Phil Collins "Against All Odds"

Read more: The Story of... 'Against All Odds'

Phil Collins wrote this song for the 1984 romance movie of the same name, and is a song in which its protagonist implores an ex-lover to 'take a look at me now', knowing that reconciliation is 'against all odds' while considering it worth trying.

Collins watched the movie on a videocassette recorder in his hotel room and agreed to appear on the soundtrack. The song has twice reached number one in the UK: the pairing of Mariah Carey and Westlife in 2000, and by Steve Brookstein, the first winner of The X Factor, in 2005.

Whitney Houston - 'I Have Nothing'

Whitney Houston - I Have Nothing (Official Video)

Also taken from the Bodyguard soundtrack, this song is about love and the confusion that occurs due to the different perceptions of women and men when it comes to commitment.

The power ballad was another huge success around the world, and has become one of the most performed songs on talent shows over the last decade.

Mr Mister - 'Broken Wings'

Mr. Mister - Broken Wings

This song was co-written with lyricist John Lang, who was inspired by a book called Broken Wings, written by Kahlil Gibran. The book, which was written in 1912, is a story of a love that is doomed by social convention.

The line 'take these broken wings and learn to fly' appears in The Beatles song 'Blackbird', with Paul McCartney and John Lennon also drawing from the work of Gibran. The band's name came from an inside joke about a Weather Report album called Mr Gone.

Foreigner - 'I Want to Know What Love Is'

Foreigner - 'I Want To Know What Love Is' [Official Music Video]

The band's biggest ever hit, it reached number one in both the UK and US. Writer Mick Jones said of the song: "I don't know where it came from. I consider it a gift that was sent through me. I think there was something bigger than me behind it. I'd say it was probably written entirely by a higher force."

Fact: it features keyboard work by Thompson Twins frontman Tom Bailey.

Heart - 'Alone'

Composed by Billy Steinberg and Tom Kelly, this power ballad first appeared via their 1983 pet project, I-Ten, on Taking a Cold Look. It was later recorded by Valerie Stevenson and John Stamos for the soundtrack of the CBS sitcom Dreams in 1984.

US rock band Heart scored a number one with it three years later. Kelly ended up singing the high harmony parts on the Heart version.

Aerosmith - 'I Don't Want to Miss a Thing'

Aerosmith - I Don't Want to Miss a Thing (Video)

Read more: The Story of... 'I Don't Want to Miss a Thing'

This was Aerosmith's surprise comeback in 1998. Write Diane Warren found inspiration after hearing about an interview where actor James Brolin said that when his wife Barbra Streisand was away, he missed her even when he was sleeping.

When tasked with writing a song for Armageddon, she figured it was a perfect sentiment, since the film dealt with the impending destruction of Earth.

John Farnham - 'You're the Voice'

John Farnham - You're the Voice

This power ballad was co-written by Keith Reid ('A Whiter Shade of Pale') and Manfred Mann's Earth Band singer Chris Thompson. It became one of the biggest Australian hits of all time, and was a success around the world, though in the US it was Heart's cover in 1991 that proved more popular.

It has been used in various TV shows and movies, including in Peter Kay's Car Share, when his character John passionately sings along to the song while driving to work.

Starship - 'Nothing's Gonna Stop Us Now'

Starship - Nothing's Gonna Stop Us Now

Also written by Diane Warren, along with Albert Hammond, this was a massive hit for Starship in 1987.

Hammond said that the idea for the song came from his impending marriage to his live-in girlfriend of seven years, after his divorce from his previous wife. He said to Warren: "It's almost like they've stopped me from marrying this woman for seven years, and they haven't succeeded. They're not gonna stop me doing it."

Tina Arena - 'Chains'

This power ballad was Australian singer Tina Arena's biggest hit outside of her home country, reaching number six in the UK in 1995.

When she was inducted into the ARIA Hall of Fame in 2015, she performed the track alongside The Veronicas and Jessica Mauboy, which became a hit in itself later that year.

Alannah Myles - 'Black Velvet'

Alannah Myles - Black Velvet

Canadian country singer Alannah Myles scored a big hit with this track in 1990 around the world.

The song is an ode to Elvis Presley. Co-writer Christopher Ward, who was Myles' then-boyfriend, was inspired on a bus full of Elvis fans riding to Memphis attending the 10th anniversary vigil at Graceland, in 1987.

Def Leppard - 'When Love and Hate Collide'

DEF LEPPARD When Love & Hate Collide (Official Video)

This love song was originally written and demoed for Def Leppard's 1992 album Adrenalize, but not finalized until 1995 for its inclusion on 'greatest hits' compilation Vault.

Guitarist Vivian Campbell said their label wanted a "syrupy-sounding" song for the 'best of', and that "the suits at the label really loved it" after sending them a demo version. It became one of the band's biggest hits in their homeland, reaching number two, but failed to reach the top 40 in the States.

Celine Dion - 'It's All Coming Back to Me Now'

Céline Dion - It's All Coming Back To Me Now

Celine Dion recorded the most famous version of this Jim Steinman power ballad in 1996, seven years after girl group Pandora's Box first released it. Inspired by Wuthering Heights, it was an attempt to write "the most passionate, romantic song" he could ever create.

Meat Loaf had wanted to record it for years, but Steinman saw it as a "woman's song", and won a court movement preventing Meat Loaf from recording it for decades. Meat Loaf eventually recorded it as a duet with Norwegian singer Marion Raven for Bat Out of Hell III in 2006.