Nile Rodgers and Chic's new album It's About Time: Release date, tracklist, cover and all the details
7 August 2018, 16:38 | Updated: 8 August 2018, 15:07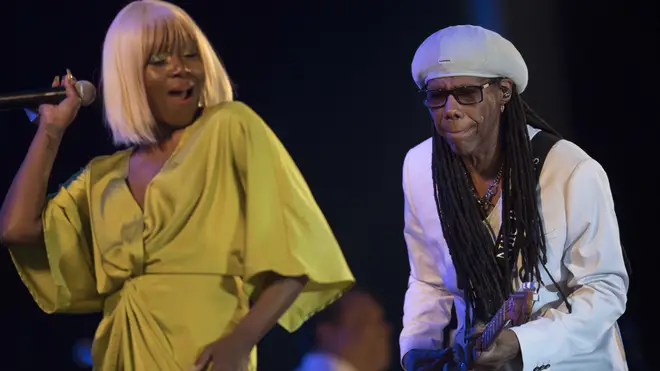 It's been 25 years since Chic last released an album, but they're back!
Nile Rodgers and his collective will release their first album in over two decades, aptly titled It's About Time, later this year.
Here are all the big details about the long-awaited album, featuring some very familiar faces.
It's About Time release date: When does it come out?

Chic's new album will be released on September 14, 2018.

Nile Rodgers has said that the album is the first of two parts that make up the "new Chic experience". The second album will be released within a year of the first.

Chic new album It's About Time cover: What is the artwork?

Left: Chic (1977) / Right: It's About Time (2018).

Picture: Atlantic/Virgin EMI

Shot by photographer Britt Lloyd and creative directed by Greg Foley, the new album cover references the artwork for Chic's self-titled debut album in 1977, which starred supermodels Valentine Monnier and Alva Chinn.

The new album features models Duckie Thot and Jazzelle in similar poses.

"We thought we could get supermodels on our cover to basically [outline] the concept of Chic, to say that we were going back in time to a period where music was all about the underclass coming up," Rodgers recently told V Magazine.

"It was all about Duke Ellington and Cab Calloway. It was all about the prohibition era and the era of the big jazz bands. That's why we weren't on the cover. If you looked at a lot of the things from that era, they put popular people on their product until they became popular in and of themselves."

It's About Time duets: Who will appear on the album?

Lady Gaga, Sir Elton John, Miguel, Nao, Janelle Monae, Disclosure and Anderson.Paak are among the stars who are confirmed to be appearing on the album (or albums).

Nile Rodgers has also posted photos of himself working at Abbey Road with a variety of singers, including Olly Murs, Flume, Kyan, George Ezra and Kungs in recent weeks.

Are there any singles yet?

Nile Rodgers & Chic feat. Mura Masa & Cosha - Till The World Falls on Later... with Jools Holland

Chic have released one song so far: 'Till The World Ends' featuring Mura Masa, Cosha and Vic Mensa.

Who is in Chic now?

Fronted by legendary producer and musician Nile Rodgers, Chic is currently made out of:

Nile Rodgers – guitar, vocals

Jerry Barnes – bass, vocals

Ralph Rolle – drums, vocals

Kimberly Davis – lead vocals

Folami – lead vocals

Richard Hilton – keyboards

Russell Graham – keyboards

Bill Holloman – horns

Curt Ramm – horns

Rodgers' longtime Chic collaborator Bernard Edwards sadly passed away in 1996, while original drummer Tony Thompson died in 2003.

The classic lineup also featured Alfa Anderson and Luci Martin on lead vocals.