Downton Abbey movie: First trailer, cast, release date, plot and more revealed
21 May 2019, 14:37 | Updated: 21 May 2019, 14:51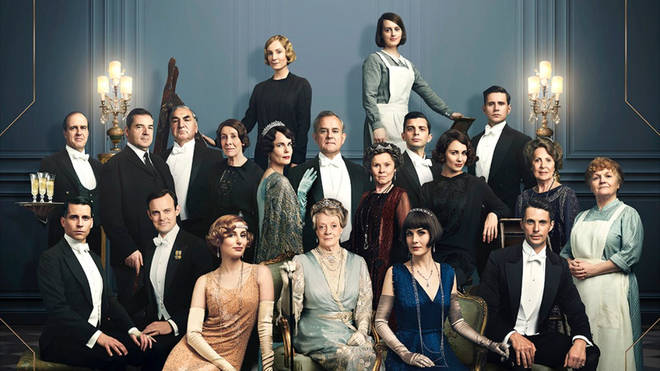 Downton Abbey is opening its doors again for a movie version in autumn 2019, but who is in the cast, is there a trailer and what is the plot of the film? Michelle Dockery, Dame Maggie Smith and others are all back.
Welcome (back) to Downton... After years of rumours, there will finally be a Downton Abbey movie.
The film adaptation of the popular ITV period drama was confirmed on July 13, 2018, and entered production in the summer.
"When the television series drew to a close it was our dream to bring the millions of global fans a movie and now, after getting many stars aligned, we are shortly to go into production," said producer Gareth Neame.
"Julian's script charms, thrills and entertains and in Brian Percival's hands we aim to deliver everything that one would hope for as Downton comes to the big screen."
The film is written by creator Julian Fellowes, and will be directed by Brian Percival, who also directed the show's original pilot episode. Here are all the big facts of the film so far...
Downton Abbey trailer: Are there any teasers?

Yes! Watch the full trailer - first released in May 2019 - above.

Before this, in December 2018, the first teaser trailer was unveiled. The clip allowed fans back into the grand rooms of Downton, along with the famous music.

A card in the trailer also reveals the key characters expected to be involved in the film: Lord Grantham, Lady Grantham, Lady Mary Talbot, Lady Hexham, the Dowager Lady Grantham, Lady Merton, Tom Branson, Mr Carson, Mr Barrow, Mrs Hughes, Mr Bates, Mrs Bates, Mrs Patmore, Mr Molesley, Daisy Mason and Miss Baxter.

Downton Abbey movie release date: When will it come out?

The movie will be released on September 13 in the UK and on September 20 in the US..

Michelle Dockery - who plays Lady Mary - revealed that filming began in September on Instagram:

Downton Abbey movie cast: Who will appear?

Picture: ITV

So far, it is assumed that all of the original cast will return for the big-screen version, including Michelle Dockery as Lady Mary Crawley, Laura Carmichael as Lady Edith Crawley, Joanne Froggatt as Anna Bates, Hugh Bonneville as Robert Crawley and Elizabeth McGovern as Cora Crawley.

Dame Maggie Smith is also set to return as Violet Crawley, despite previously saying a movie could be "squeezing it dry".

However, Lily James has confirmed that she will not be returning as Lady Rose MacClare. "I'm sadly not, but I'm so excited for it — I'm going to be front row," she said, adding that the reason "wasn't schedules".

"My character Rose moved off to New York, so it would be farfetched to bring her back," she added. "I would have loved to have come back for a scene, but for a movie it can't be like a Christmas special and it needs to be a focused storyline. There was no space for Rose."

In terms of new cast members, Imelda Staunton (who is married to Carson actor Jim Carter in real life) has joined, as well as Sherlock Holmes' Geraldine James, The Thick Of It's David Haig, The Hitchhiker's Guide To The Galaxy's Simon Jones, Sense8's Tuppence Middleton, Peaky Blinders' Kate Phillips, and Goodbye Christopher Robin's Stephen Campbell Moore.

Downton Abbey movie plot: What will it be about?

Picture: ITV

According to Variety, the film will follow the Crawley family and workers preparing for the arrival of King George V and Queen Mary.

The film will be set in 1927, when the wealth of the Crawley family is starting to diminish. They now employ less servants, meaning that the Crawleys ask retired head butler Carson for his help ahead of the royal visit. 

Lady Mary Crawley is also considering leaving the estate. However, Anna Bates, her maid, tries to stop her, telling her: "Downton Abbey is the heart of this community and you're keeping it beating."

The final TV episode of Downton Abbey was a largely happy affair, airing on Christmas Day in 2015.

Edith got married to Bertie, Mary revealed that she was pregnant with her second child, Anna gave birth to her first, Henry and Tom went into business together selling cars and Carson resigned as butler due to his illness.

The last time we caught up with them all it was 1925, so maybe we'll see a time jump of a few years?

Downton Abbey character posters: Are there any more teasers?

On March 27, several glamorous character posters were released to tease the film.

One of the images sees Michelle Dockery's Lady Mary Crawley putting on a pair of luxurious earrings, while wearing an evening gown and gloves. A second sees Laura Carmichael's Lady Edith Crawley in a similar outfit, admiring a piece of jewellery:

Michelle Dockery in Downton Abbey.

Picture: Universal

Laura Carmichael in Downton Abbey.

Picture: Universal

Robert James-Collier's Thomas Barrow is seen polishing a wine glass in another poster, while Michael Fox's Andy prepares a table.

The tagline on the posters reads: "We've been expecting you."

Robert James-Collier in Downton Abbey.

Picture: Universal

Michael Fox in Downton Abbey.

Picture: Universal

Downton Abbey movie title: What is it called?

The film is simply called: Downton Abbey.