8 of the world's dumbest criminals ever
12 September 2018, 11:40 | Updated: 12 September 2018, 13:03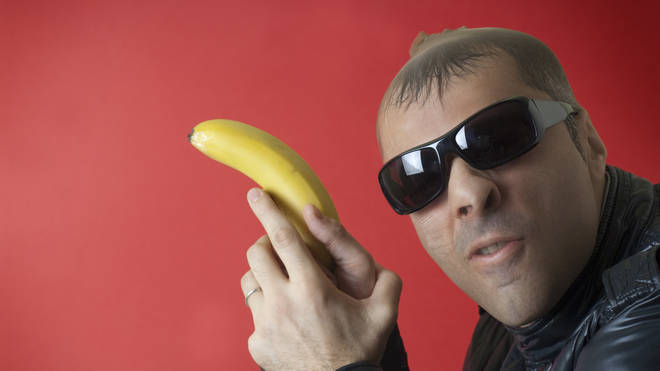 'Ello, 'ello, 'ello, whats goin' on 'ere, then?
New films King of Thieves and American Animals depict epic heists executed by criminal masterminds. But no matter how great the mind behind the heist, something can always go wrong.
Here are some of the times when criminal masterminds forgot the mastermind aspect of their genius plan...
Robber uses a cucumber as a gun, hopes no-one notices

Picture: Getty

A man tried to rob a Glasgow bookmakers while armed with only a cucumber a few years ago.

However, he was soon tackled to the ground by an off-duty police officer, when it was clear that a harmless vegetable wasn't going to be much of a threat.

Gary Rough revealed his weapon of choice, covered in a black sock, at a female worker at Ladbrokes in Shettleston, demanding cash.

After she refused, Rough was pinned down by the officer and quickly arrested.

He told police it was all a "joke" before asking: "Am I getting the jail for this?" He was jailed at the High Court in Glasgow in 2014 after admitting assault with intent to rob.

Burglar falls asleep on the job

A retired couple from Lancashire returned home from their holiday in 2014, only to find a burglar fast asleep in their bed.

Martin Holtby and Pat Dyson were shocked to find Lukasz Chojnowski having a quiet nap. Not only that, but he had done their dishes, washed his underwear and bought some groceries.

Pat said their house "wasn't too tidy" when they left for their trip, but that Polish-born Chojnowski had taken the time to tidy up.

"He did burn an old saucepan but that happens!" she added. The man admitted burglary, and was given a two-year conditional discharge, and ordered to pay £200 costs.

Criminal uses stolen phone to take a selfie in the house he's burgling

Stock photo.

Picture: Getty

One of many foolish thieves to be found out by a selfie, Ashley Keast actually used a stolen SIM card to take a photo inside a house he was robbing.

The Rotherham resident then posted the picture on Whatsapp, not realising he had sent the picture to the victim's work colleagues.

Officers soon found him at his home, also with a stolen Rolex watch hidden behind a radiator. He was jailed for two years and eight months in 2014.

Man uses wanted poster as his Facebook profile pic

Picture: Facebook/Mack Yearwood

Police didn't struggle finding Mack Yearwood in Florida, who was wanted in connection with an assault in 2016.

After proudly uploading his wanted poster as his Facebook profile picture, one of his friends commented: "Nice mug shot," to which he replied: "Thanks buddy!".

Cops used his Facebook to track him down, and he was soon arrested.

The Stuart Police Department later wrote on Facebook: "Facebook is a great way to communicate and connect with old friends and family... If you are wanted by the police, it's probably not a good idea to use the 'Wanted of the Week' poster of yourself as your profile pic."

Good advice.

Gang try to rob the Millennium Dome on multiple occasions

Picture: Getty

In 2000 the sparkling new Millennium Dome was the subject of an attempted heist with a jackpot estimated at £350 million.

The dome was showing a De Beers diamond exhibit that attracted a gang of criminals. They attempted the robbery a few times but aborted each time. Ready to attack one last time, the gang smashed their way into the premises using a JCB.

They used a sledgehammer and a nail gun to try and get to the diamonds resting behind reinforced glass, but they were caught by the police moments before reaping the rewards of their efforts.

The police had noticed a link between the dates of their previous robbery attempts: they all took place when the Thames tide was at its highest so that they could get away without trouble. The police could therefore guess when the heist team would strike again, and they got it spot on.

ATM thieves set their money on fire

This one is on the less-than-epic end of the spectrum. When two aspiring criminals attempted to open an ATM machine with a blow torch, they suddenly understood the big mistake they had made.

They successfully melted through the heavy metal frame surrounding the all-important cash and were inches away from success. However they reached the pile of paper notes that they were after, and mistakenly set fire to the entire pile of money, leaving nothing but a criminal record.

Hapless thief falls over, removes his balaclava, gets trapped

Oh dear.

James Allan attempted to hold up a newsagent in Abingdon, Oxfordshire in 2012, with mixed results at best.

He was captured on CCTV removing his balaclava, falling over a drinks display, and then not managing to escape. Why? Because he was pushing the door instead of pulling it.

The woman he tried to rob from - with a toy gun no less - had to come and open the door for him to leave.

He even tried to rob the same shop just 10 days earlier. He was sentenced to three years in prison, and two years for possession of a firearm or imitation firearm.

Robber gives cashier his phone number

Picture: Getty

When 18-year-old Ruben Zarate tried to rob a muffler shop in Chicago, he soon realised that most of the money was in the safe.

He then decided to try again later. To make life easier for himself, he left his mobile phone number with the employees. You know, just so they'd be nice enough to let him know the best time to come and rob them.

Yeah, it backfired.