7 amazing John Lennon cover versions by David Bowie, Elton John and more
9 October 2017, 14:46 | Updated: 24 June 2018, 11:25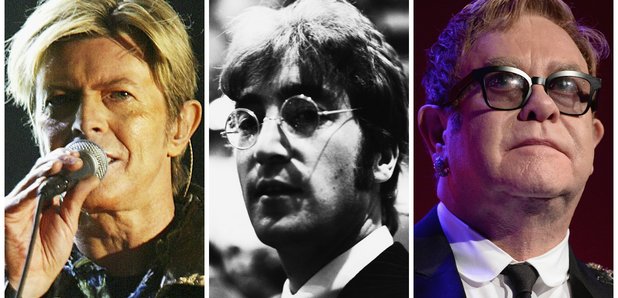 John Lennon left behind a legacy of amazing songs, from his Beatles days to his work with wife Yoko Ono to his solo releases.
But who has replicated the spirit of Lennon the best since his untimely death in 1980?
To mark what would have been his 77th birthday today (October 9), we've collected a handful of the greatest Lennon covers ever recorded:
1. Elton John - 'Imagine'
There have been countless covers of this seminal Lennon anthem. But we've gone for this heartfelt rendition by Sir Elton, who performed it live at his free concert in Central Park, not long after Lennon's death, and just a few blocks away from where he passed away.
2. Roxy Music - 'Jealous Guy'
This was a rare occasion where the cover version became more well known than the original. Bryan Ferry's Roxy Music released a cover of 'Jealous Guy', the year after Lennon's death. Their version reached number one in the UK.
3. Ozzy Osbourne - 'How?'
Originally on Lennon's 1971 album Imagine, Ozzy released a cover in support of Amnesty International during the week John Lennon would have become 70. He recorded a music video on the streets of New York to promote the single.
4. Roger Taylor - 'Working Class Hero'
Lennon recorded this song on his first album since the break-up of The Beatles in 1970. In 1998, Queen drummer Roger Taylor recorded a cover version on his solo effort Electric Fire.
5. Duran Duran - 'Instant Karma!'
This peace anthem has been recorded by the likes of Paul Weller and U2, but we have a soft spot for Duran Duran's version, which was recorded and released in 2006 to mark the 25th anniversary of Lennon's death.
6. David Bowie - 'Across the Universe'
Although credited to Lennon-McCartney, this Beatles song was actually written by Lennon. In 1975, David Bowie recorded a cover for his Young Americans album, featuring Lennon himself on backing vocals and guitar.
7. Sarah McLachlan - 'Happy Xmas (War is Over)'
One of the all-time greatest Christmas tunes, this song has been covered by hundreds of artists over the years. For her 2006 festive album Wintersong, Canadian singer Sarah McLachlan featured her own beautiful cover version.