Best summer songs: 14 tunes to listen to with shades on in a heatwave
10 August 2020, 09:57 | Updated: 10 August 2020, 10:01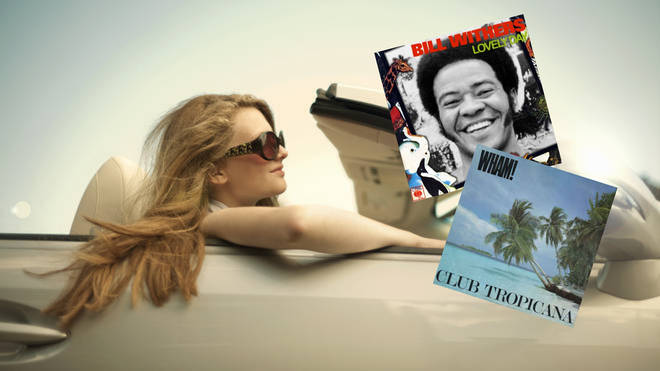 There aren't many greater feelings than going for a drive when the sun's out, the roof is down and you've got summer tunes on the radio.
So if you're in need of a perfect summer playlist, here's a perfect start:
Don Henley - 'The Boys of Summer'

Mike Campbell wrote the music to this power ballad while working on Tom Petty's Southern Accents album, but later gave it to Eagles singer Don Henley, who wrote the lyrics.

The song is about the passing of youth and entering middle age, and of a past relationship. We've all been there. It was covered twice in the early 2000s: as a trance track by DJ Sammy in 2002, and as a pop punk hit by The Ataris in 2003.

Wham! - 'Club Tropicana'

Just look at those shorts! Written by both George and Andrew, this song was something of a departure from their previous singles, which had all been influenced by social or political issues.

This song was a satire of the cheap package holiday boom of the early 1980s, and was a swipe at the Club 18-30 scheme of the time.

Bill Withers - 'Lovely Day'

Bill Withers' greatest songs ever

Released in 1977, this summer tune is notable for Bill's amazing sustained note towards the end, which at 18 seconds long, is one of the longest ever recorded.

Bonus fact: 'Ghostbusters' star Ray Parker Jr played guitar on the song!

KC and the Sunshine Band - 'Give It Up'

KC and the Sunshine Band may have seen a decline in their signature disco sound of the 1970s, but they scored a surprise huge hit with this classic in 1983.

The synthpop-inspired tune was a number one it in the UK, and always puts a smile on our face. It was used in a memorable scene in the 2014 film Kingsman: The Secret Service.

Bob Marley and the Wailers - 'Three Little Birds'

We could have selected any Bob Marley song for this list, but we've gone for this chilled classic.

Marley's inspiration for the lyrics of this song is up in the air. They are partly inspired by birds that Marley was fond of, that used to sit next to his home. Friend Tony Gilbert said: "Bob got inspired by a lot of things around him, he observed life. I remember the three little birds. They were pretty birds, canaries, who would come by the windowsill at Hope Road."

However, three female singers from reggae group I Threes claim it is a reference to them. Singer Marcia Griffiths said: "After the song was written, Bob would always refer to us as the Three Little Birds."

Eagles - 'Take it Easy'

Again, pick any Eagles song and it would be perfect for a drive in the sun.

This was the Eagles' first ever single, and began life as a song by singer-songwriter Jackson Browne, before Glenn Frey offered to finish the song for him. Browne later said: "After a couple of times when I declined to have him finish my song, I said, 'all right.' I finally thought, 'This is ridiculous. Go ahead and finish it. Do it.' And he finished it in spectacular fashion. And, what's more, arranged it in a way that was far superior to what I had written."

The Isley Brothers - 'Summer Breeze'

Folk duo Seals and Crofts recorded this song originally, and while it is also a sunny classic, the Isley Brothers put an incredible spin on it.

The Isleys' version is known for the harmonies of the three vocal Isleys O'Kelly, Rudolph and lead singer Ronald, and also for the distinctive guitar solo by younger brother Ernie.

Bryan Adams - 'Summer of 69'

Bryan Adams' 13 greatest ever songs

Originally titled 'Best Days of My Life', this song was amazingly not a hit in the UK (only reaching number 42), despite it being arguably his best known and most loved song!

Bryan Adams later said: "That song is 25 years old now so it's had that many years to incubate. A lot of songs, like that one, hit big in America but really not anywhere else. It didn't chart anywhere in Europe until at least 10 years after it was released. I think songs can have a life of their own regardless of the promotion."

Commodores - 'Easy'

You don't get more relaxed and... well... easy than this.

Written by Lionel Richie, the ballad expresses a man's feelings as he ends a relationship. However, rather than being depressed about the break-up, he says that he is instead "easy like Sunday morning".

The Beatles - 'Here Comes the Sun'

This song was written by George Harrison at the country house of his friend Eric Clapton, where Harrison had decided to escape for the day, to avoid attending a meeting at the Beatles' Apple Corps group.

He later said: "It seems as if winter in England goes on forever, by the time spring comes you really deserve it. So one day I decided I was going to sag off Apple and I went over to Eric Clapton's house. The relief of not having to go see all those dopey accountants was wonderful, and I walked around the garden with one of Eric's acoustic guitars and wrote 'Here Comes the Sun'."

Michael Jackson - 'Rock With You'

Written by Heatwave's Rod Temperton – who would later write 'Thriller' – the song was originally titled 'I Want To Eat You Up', but it was quickly changed to fit Michael Jackson's image as a wholesome heartthrob.

It is considered one of the last hits of the disco era, and what a way to end it.

TLC - 'Waterfalls'

The lyrics of this song actually reference 1990s issues such as HIV/AIDS and violence connected with the illegal drug trade. T-Boz Watkins said that it was important for the group to "get the message across without seeming like preaching."

It shares elements with Paul McCartney's song of the same name, which opens with the line "Don't go jumping waterfalls, please stick to the lake." McCartney noticed the resemblance, saying: "In fact, somebody had a hit, a few years ago, using the first line... then they go off into another song. It's like, 'Excuse me?'".

Big Mountain - 'Baby I Love Your Way'

First released in 1975 by guitarist Peter Frampton, it became a top 10 hit for American reggae band Big Mountain two decades later.

They first released it in 1994, but it wasn't a hit in the UK until a year later. It was one of several songs stuck at number two behind Wet Wet Wet's 'Love is All Around' that summer.

Chris Rea - 'On the Beach'

This song was inspired by the Spanish island Formentera off the coast of Ibiza. Chris Rea later said: "That's where me and my wife became me and my wife. That's what it's about. Yeah, I was 'between the eyes of love'. It's a lovely island if ever you're in Europe."

It was later sampled in the dance track 'OTB (On the Beach)' by York, which reached number four in 2000.