Earth Wind & Fire's 10 greatest songs ever, ranked
8 June 2023, 14:54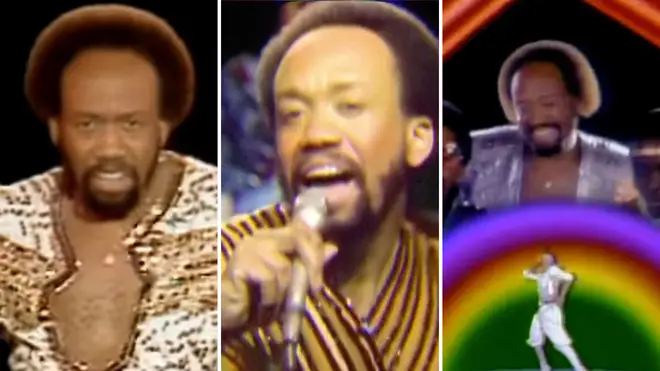 Earth, Wind & Fire were one of the greatest disco and pop bands of the 20th century.
They dominated the charts in the 1970s and 1980s, and their music has truly stood the test of time.
The American group's sound encompassed genres such as jazz, R&B, soul, funk, disco, pop, Latin, and Afro-pop. They are also one of the best-selling music artists of all time, with sales of over 90 million records worldwide.
Earth, Wind & Fire were formed in Chicago by singer Maurice White in 1969, while other famous members have included Philip Bailey, Verdine White, Ralph Johnson, Larry Dunn, Al McKay, Roland Bautista, Robert Brookins, Sonny Emory, Fred Ravel, Ronnie Laws, Sheldon Reynolds and Andrew Woolfolk.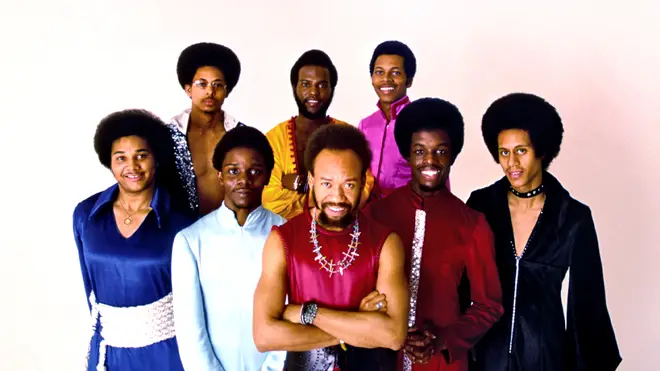 They were known for their elaborate stage shows, as well as the gorgeous blend of Bailey's falsetto and Maurice's baritone voices.
From their party floor-fillers to their heartfelt ballads, here are the greatest Earth Wind and Fire songs of all time.
Shining Star

Earth, Wind & Fire - Shining Star (Official Audio)

This funk and soul track was taken from the band's 1975 album That's the Way of the World.

Maurice White came up with the idea for the song while strolling at night during the their of the album at Caribou Ranch. He was inspired by seeing the starry sky, and took his ideas about the song to his bandmates.

Can't Let Go

Earth, Wind & Fire - Can't Let Go (Audio)

A typically excellent disco track by the group for their I Am album, this track surprisingly missed out on the UK charts, stalling at number 46.

Reasons

Earth, Wind & Fire - Reasons (Official Video)

Philip Bailey took on lead vocals on this ballad from 1975.

It is often played at weddings, which surprised band members, since the song and lyrics tell a story about a one-night stand.

Got to Get You Into My Life

Earth, Wind & Fire - Got to Get You Into My Life (Audio)

In an inspired move, Earth Wind & Fire decided to record a disco funk cover of this 1966 track by The Beatles.

The song reached number one on the Billboard Hot Soul Singles chart, and number 33 in the UK in 1978.

Fantasy

Earth, Wind & Fire - Fantasy (Live)

This 1978 song took three months to write, and was only finally finished after Maurice White was inspired by the film Close Encounters of the Third Kind.

The R&B and soul track was sung by Philip Bailey and reached the UK top 20.

Fall in Love With Me

Earth, Wind & Fire - Fall In Love With Me (Official Video)

Taken from their 1983 album Powerlight, Maurice White wrote this electro-disco tune with The Emotions' Wayne and Wanda Vaughn.

After the Love Has Gone

Earth, Wind & Fire - After The Love Has Gone (Live)

Co-written by David Foster, Bill Champlin and Jay Graydon, this ballad was first offered to Hall & Oates, and was then meant to be recorded by Champlin before Earth, Wind & Fire took it on.

The group proved that they could also record fantastic love songs as well as party anthems with this smooth classic.

Boogie Wonderland

Earth, Wind & Fire - Boogie Wonderland (Official Video)

If you wanted one song that summed up the joy and excitement of the disco era, it would be 'Boogie Wonderland'.

This disco-funk staple was Earth, Wind & Fire at the peak of their powers in 1979, with Maurice White going for it at the front.

It's impossible not to get up on your feet with this one.

Let's Groove

Earth, Wind & Fire - Let's Groove (Official HD Video)

Despite the growing backlash against disco music in the United States at the turn of the 80s, Earth Wind & Fire decided to resurrect the genre with this excellent party tune in 1981.

The catchy tune showed that the group were able to move with the times as their style of music went into the post-disco era, and remains one of the best songs of the '80s.

September

Earth, Wind & Fire - September (Official HD Video)

This huge disco hit from 1978 was a success around the world.

Co-writer Allee Willis was at first bothered by the "ba-dee-ya" lyric used by Maurice White, and begged him to rewrite it: "I just said, 'What the f**k does 'ba-dee-ya' mean?' And he essentially said, 'Who the f**k cares?' I learned my greatest lesson ever in songwriting from him, which was never let the lyric get in the way of the groove."

Several theories existed about the significance of the date of September 21st. Maurice later claimed he simply chose the date due to how it sounded when sung.

His wife Marilyn, however, claimed that September 21 was the due date of their son, Kahbran, according to lyricist Allee Willis.