The 15 greatest chillout albums of all time to stay focused and relaxed at home
19 March 2020, 18:26 | Updated: 27 November 2020, 12:41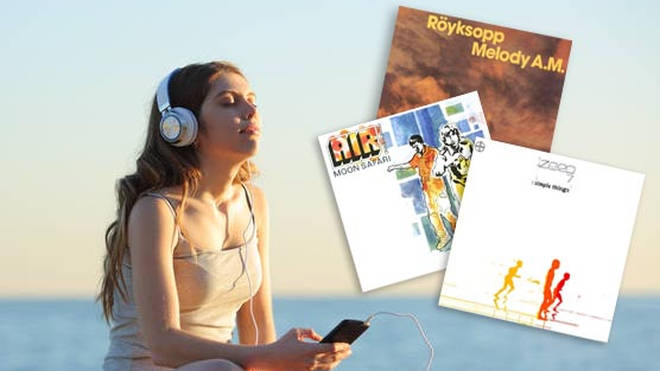 There's nothing quite like finding that one album that always sends you into a trance and makes you feel all zen.
Now more than ever, it's good to stay as relaxed and calm as possible and to shut out the noise.
Smooth Radio's sister radio station Smooth Chill is the home of Music to Chill To, and we've selected the very finest chillout albums of all time, for when you're needing an hour or so of complete calm.
Boards of Canada - Geogaddi

The second album from Scottish duo Boards of Canada, this release saw them heading down a darker style than their previous releases.

Member Michael Sandison may have described it as "a record for some sort of trial-by-fire, a claustrophobic, twisting journey that takes you into some pretty dark experiences before you reach the open air again," but it still transports us to another time and place.

The xx - xx

A bit more on the indie spectrum of chillout albums, but this band's debut straddled various genres enough that we're including it.

The LP has such an ethereal quality to it, helped in part to the effort put in by the band during the recording process.

They would record the album at night after the label's staff had left, which singer Romy Croft said made it feel "isolated and quite creepy", while both she and Oliver Sim recorded vocals at the same time so they stayed "in sync" and shared the same mental state or mood. It worked.

Aqualung - Aqualung

Singer-songwriter Matt Hales' debut album in 2002 proved that his surprise hit single 'Strange & Beautiful' was no one-off.

The piano-led indie album was amazingly recorded entirely in his hallway.

Thievery Corporation - The Richest Man in Babylon

Producers Rob Garza and Eric Hilton made lounge music great again in the era of electronic music in the late 1990s/early 2000s.

They incorporated bossanova, reggae and hip-hop sounds for their electronic-acoustic style, and this was arguably their finest release.

The 2002 album contains a mixture of uplifting and melancholic tracks, with vocalists including Emiliana Torrini and Pam Bricker.

Massive Attack - Mezzanine

We could have picked any Massive Attack album for this list, but we went for the trip-hop kings' third release.

The inclusion of the iconic 'Teardrop' is almost enough to have this high in the first place.

It was also impressive to create such an accomplished album considering the difficulties involved. With tensions rising in the group, it almost split up the band at the time, as they disagreed about its musical direction from the off.

Aphex Twin - Selected Ambient Works Volume II

Richard D James first released Selected Ambient Works 85-92, launching the "ambient techno" style as he went.

The follow-up was even more abstract and rather creepy at times (as you'd expect from Aphex Twin), with each of its 24 tracks not having titles, but rather being identified only by images in the artwork, such as cliffs or grass.

This helped intensify the feeling of being lost as a listener, but tthat doesn't stop the album being an overall masterpiece of the chill genre.

Bent - Programmed to Love

This was the debut album by Nottingham-based duo Bent, who were initially known for their mischievous use of sampling their private record collections, an act they have themselves referred to as "dodgy".

Bonus fact: They are one of Michael Caine's favourite bands. True story.

Brian Eno - Ambient 1: Music for Airports

If there's one person that can be called the king of ambient (aside from Erik Satie before him), it would be Brian Eno.

For a number of his albums, the former Roxy Music man turned to ambient music to create a new kind of beautifully melodic LP. For this album, he attempted to create a general mood in a way that no-one had really done before.

The album is full of piano and synth melodies that move about effortlessly through the air. It's guaranteed to make any visit to the airport 2,000% more bearable.

Zero 7 - Simple Things

Henry Binns and Sam Hardaker's debut album perfectly summed up the rising chillout genrea of the early 2000s.

Featuring vocals from a then-unknown Sia alongside others, it was a downtempo album that took you away to another sensual world. It was even nominated for the Mercury Prize at the time.

Royksopp - Melody AM

This was the debut album by Norwegian duo Royksopp, and it instantly cemented them as one of the leading groups in the downtempo genre of the early noughties.

Songs (and hits) including 'So Easy', 'Eple', 'Remind Me' and 'Poor Leno' made this album a must-listen no matter what kind of music you were into at the time.

Zero 7 - The Garden

Somewhat overlooked compared to their first two albums, Zero 7 returned with an LP that took them in a new direction but didn't lose their chillout roots.

Retaining the likes of Sia and recruiting folk singer Jose Gonzalez, The Garden was somewhat more upbeat in style, and it deserves another listen or three.

Moby - Play

This slow-burner of an album eventually sold over 12 million copies, making it the most successful electronica album of all time.

Moby's fifth album is something of a masterpiece, and only drops points on this list as it's not predominantly a chillout LP.

But with tracks such as 'Porcelain', 'Natural Blues' and 'Why Does My Heart Feel So Bad?', it can't be ignored.

Zero 7 - When it Falls

Zero 7's second album saw them do everything they did brilliantly in Simple Things, but even better.

The sensual vocals of artists including Mozez, Sia and Sophie Barker were back, but it was far more mature and less 'Ibiza morning after' than its predecessor.

Jakatta - Visions

This album from DJ Dave Lee is cruelly forgotten compared to other releases on this list, but it deserves a second coming.

Jakatta scored a few hits in the early 2000s, including the Thomas Newman-sampling American Dream, and the Seal-featuring My Vision.

For his one and only album using the Jakatta moniker, Lee created a soundscape of chillout brilliance. If you can find it, you won't be disappointed.

Air - Moon Safari

Released in 1998, the debut album from French group Air essentially set the standard for all downtempo and chillout albums that have come ever since.

With timeless tracks such as 'Sexy Boy' and 'All I Need', this really is the chill blueprint.
For all the greatest chillout tracks of all time, listen to Smooth Chill here. Music to Chill To, 24 hours a day.