Roxette's 10 greatest songs ever, ranked
10 December 2019, 16:39 | Updated: 10 December 2019, 16:44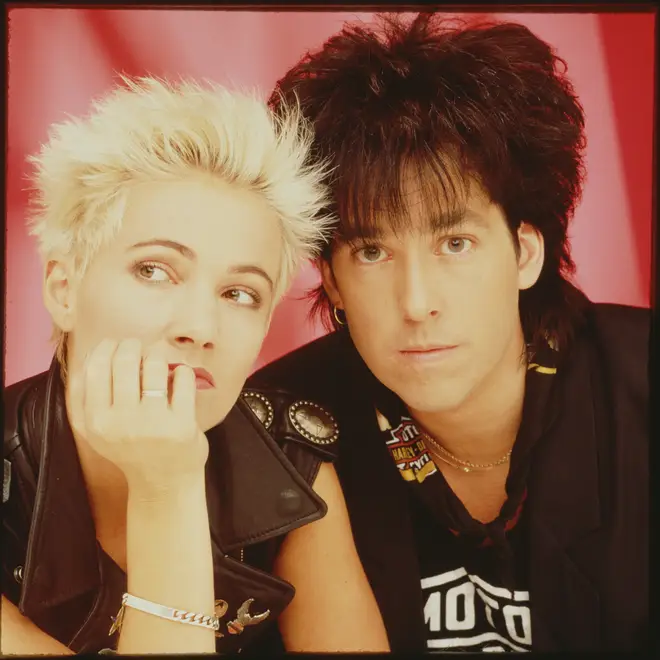 Roxette were one of the biggest pop bands of the 1980s and 1990s, thanks to their infectious melodies and power ballad awesomeness.
After hearing the sad news that singer Marie Fredriksson passed away at the age of 61 after battling cancer, it made us look back at just how amazing Roxette were.
The Swedish duo - comprising of Marie and Per Gessle - were their nation's biggest band after ABBA, and scored many international hits.
Here are just a handful to kickstart your beginner's guide to Roxette:
'Dangerous'

Roxette - Dangerous (Official Video)

This was one of Roxette's first international hits, reaching the top 10 in the US and UK in 1990.

It was one of five singles taken from their massive breakthrough album Look Sharp!

'Sleeping In My Car'

Roxette - Sleeping In My Car

Going down the pop punk route, this song was written by Per Gessle in under an hour.

Marie Fredriksson's impressive vocal range on the song spans over three octaves. It gave the band a number one hit in Sweden in 1994.

'Fading Like a Flower (Every Time You Leave)'

Roxette - Fading Like A Flower

Taken from Roxette's Joyride album in 1991, this was a number two hit in the States that year.

It was later a top 20 hit in the UK in 2005, when released as a remix with dance act Dancing DJs.

'The Centre of the Heart'

Roxette - The Centre Of The Heart (Is A Suburb To The Brain) (Official Video)

This uptempo electropop song was written by Gessle and was originally demoed in 1998 during sessions for their previous album Have a Nice Day.

The track became one of the duo's biggest hits in their home country, spending four weeks at the top of the Swedish charts in 2001.

'Almost Unreal'

Roxette - Almost Unreal (Official Video)

Of all the films, this was recorded for the soundtrack of 1993's Super Mario Bros. It was easily the best thing about the movie!

Initially, they thought they were recording the theme for the movie Hocus Pocus, until En Vogue beat them to the gig.

Although unsure about the project, the duo decided to allow Disney to use the song, as they were both fans of Bob Hoskins and Dennis Hopper.

'Joyride'

Taken from their 1991 album of the same name, this gave Roxette yet another US number one single.

Gessle said that the opening line of the song was inspired by a note his girlfriend (now wife) left on his piano, stating: "Hej, din tok, jag älskar dig" (or "Hello, you fool, I love you").

Its title came from an interview in which Paul McCartney compared writing songs with John Lennon to "a long joyride".

'Listen to Your Heart'

Roxette - Listen To Your Heart (Official Music Video)

Released in 1988, this was one of the first songs that gave Roxette international stardom.

Gessle described the song as "The Big Bad Ballad". He explained: "This is us trying to recreate that overblown American FM-rock sound to the point where it almost becomes absurd. We really wanted to see how far we could take it."

'The Look'

This '80s anthem gave Roxette the first of their four number one singles in the US.

With lead vocals from Gessle, he later explained that the first two verses were made up of simple guide lyrics, saying they were "words just scribbled down to have something to sing. Couldn't come up with anything better, so we kept them. Everybody gets lucky sometimes."

'Wish I Could Fly'

Roxette - Wish I Could Fly [Official Music Video]

An orchestral pop ballad containing electronic elements, this song was written as an experiment by Per Gessle, who was attempting to establish if a prominently-placed drum loop would fit alongside a large orchestra.

Singer Marie Fredriksson described it as a "very special song to me. I never get tired of this." It became the most-played song on European radio of 1999.

'It Must Have Been Love'

Roxette - It Must Have Been Love (Official Music Video)

It's easy to forget that this song was originally Christmas-themed, with the full title being 'It Must Have Been Love (Christmas for the Broken Hearted)'.

Originally released in 1987, it became a huge hit three years later when an updated version without the festive references was recorded for the Pretty Woman soundtrack.

Thanks to the movie's success, it became Roxette's biggest hit and went to number one around the world.