10 people you totally forgot scored a number one single
9 July 2019, 17:41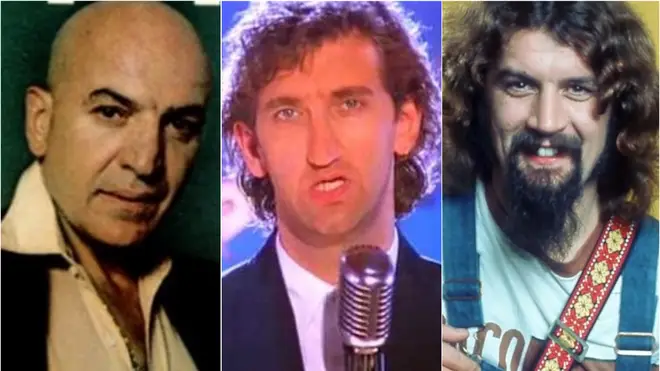 There are some iconic artists who have never achieved a number one single in the UK: Bon Jovi, Bob Marley, Dolly Parton to name a few.
And yet there a number of people who have managed to amazingly score a chart-topper, even if they're not exactly known for making music.
Here are a few surprising stars to have landed at number one, who you'd be forgiven for not having a clue it ever happened:
Timmy Mallett

Bombalurina - Itsy Bitsy Teeny Weeny Yellow Polka Dot Bikini

Timmy Mallett was a true TV favourite in the late 1980s/early 1990s, and it got so silly that he scored a UK number one single.

It was under the name Bombularina, which he formed alongside Andrew Lloyd Webber of all people.

Named after a character in Lloyd Webber's musical Cats, he teamed up with female singers and dancers Dawn Andrews (who just so happens to be the wife of Gary Barlow) and Annie Dunkley, and topped the chart with a cover of 'Itsy Bitsy Teeny Weeny Yellow Polka Dot Bikini' in 1990. Shudder.

Jimmy Nail

Jimmy Nail Ain't No Doubt

It's easy to forget that actor Jimmy Nail has also had a genuinely decent pop career in a time where that kind of thing could actually happen. It would be like if Line of Duty's Stephen Graham released an album today.

Jimmy has released seven albums in total, with his biggest hit being 1992's number one 'Ain't No Doubt', thanks to the success of his then-TV series Spender.

Telly Savalas

The Greek-American TV legend, best known for playing the titular Kojak and one of the Blofelds in Bond, also managed to have a brief pop career.

In 1975, he recorded a spoken-word version of Bread's 'If', and took it to number one in the UK. More amazingly - whisper it - it's surprisingly good.

Billy Connolly

Tammy Wynette first released her country ballad 'D-I-V-O-R-C-E' in 1968, before re-releasing it in 1975 as part of a new Greatest Hits album.

The same year, comedy legend Billy Connolly recorded his own parody version, with a dog now in place of the little boy in the lyrics, spelling out words such as bum and far more rude words. It managed to be an even bigger hit than the original.

Paul McCartney's brother

The Scaffold - Lily The Pink

Yep, Sir Paul's younger brother Peter also had a brief spell of chart success in the late 1960s.

Under his stage name of Mike McGear, he was part of The Scaffold (alongside poet Roger McGough and comic entertainer John Gorman), who had the 1963 Christmas number one with novelty song 'Lily the Pink'.

Sally Lindsay

St. Winifred's School Choir - There's No One Quite Like Grandma

Best known for playing Shelly Unwin in Coronation Street, did you know that Sally was also something of a pop star?

Well, not really. Her first TV appearance came at the age of seven when her school choir, the St Winifred's School Choir, released the rather sickly 'There's No One Quite Like Grandma', which was the Christmas number one of 1980. What were we thinking?

Hale and Pace

Hale And Pace And The Stonkers The Stonk

Yes, there was a time when comedians Hale & Pace were popular enough not only to record the official Comic Relief single, but to get number one with it too.

Ladies and gentlemen: 'The Stonk'.

Neil Morrissey

Bob the Builder: Can We Fix It? (Music Video)

Technically, Neil did indeed have TWO number one singles.

He was, of course, the voice of Sir Bob the Builder - who achieved huge success with 2000's Christmas number one 'Can We Fix It?' and its 2001 follow-up 'Mambo No 5'.

Vic Reeves

Vic Reeves & The Wonder Stuff - Dizzy (1991) (HD)

Another comedian who scored a number one single at the beginning of their career was Vic Reeves.

Alongside The Wonder Stuff, Vic recorded a cover of Tommy Roe's 'Dizzy' and reached number one in 1991.

Bonus fact: Bob the Builder later covered Vic's arrangement as a tribute to his concrete mixer, Dizzy.

Eric Cantona

Status Quo -Status Quo & Man Utd -Come on you reds

OK, we're cheating a little bit here.

Eric was part of the Manchester United squad who recorded 'Come On You Reds', a song co-written and performed with Status Quo, of all people. And it managed to get to number one in 1994, just before Wet Wet Wet took over the summer.