The 7 greatest songs robbed of the Christmas number one
5 December 2019, 11:51 | Updated: 16 November 2022, 13:36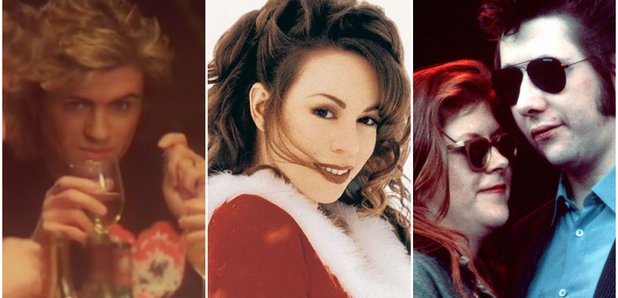 If you land yourself a Christmas number one, you go down in history as one of the relatively few artists to have achieved such a feat.
But spare a thought for the songs who got so close to the summit. While some of these are pretty lamentable ('The Floral Dance', Teletubbies, Jive Bunny etc), some were genuine classics that we love to this day.
Here are the very best Christmas number twos that we kinda wish had taken the top prize instead...
1. Greg Lake - 'I Believe in Father Christmas' (1975)
Number one: Queen - 'Bohemian Rhapsody'
It's one of those iconic Christmas songs that everyone knows, at least when they hear it if not by name. The late prog-rock musician scored a surprise massive festive hit in 1975 with his Sergei Prokofiev-sampling anthem.
He later claimed that the song was written in protest at the commercialisation of Christmas, though co-writer Peter Sinfield said that it was actually about the loss of childhood innocence. While we obviously love the song that beat it, we also reckon Greg deserved his chance of Christmas number one glory.
2. Wham! - 'Last Christmas' (1984)
Number 1: Band Aid - 'Do They Know It's Christmas?'
Not only is it one of the most popular Christmas songs of all time, but it's also the best-selling single to never reach number one. One may have assumed that it was once Christmas number one, but it happened to come out the same year as Band Aid, aka the UK's best-selling single for 13 years.
Read more: The Story of... 'Last Christmas' by Wham!
George and Andrew Ridgeley also donated all takings from the single to Band Aid that year. It equalled its number two peak in 2017 after George Michael fans launched a campaign to get it to the top in tribute to the late singer.
3. The Pogues and Kirsty MacColl - 'Fairytale of New York' (1987)
Number 1: Pet Shop Boys - 'Always On My Mind'
It's often voted as the very best Christmas song of all time, but it still couldn't reach number one. Outrageous! While the Pet Shop Boys cover of Elvis Presley is pretty inspired, we're surprised it wasn't the other way round!
It has climbed back into the Top 40 every year since 2005, and has sold over 1 million copies. The song was recorded after Elvis Costello bet Shane MacGowan that he couldn't write a Christmas single.
4. Mariah Carey - 'All I Want for Christmas Is You' (1994)
Number 1: East 17 - 'Stay Another Day'
Yes, would you believe it, Mariah didn't reach number one either. Thanks to downloads and streaming, it has also re-entered the chart every year, and even reached its peak of number 2 again in 2017.
However, East 17 beat Mariah to the top in 1994 with their Christmassy-sounding ballad. Mariah's classic has reached over 1 million UK sales in 2013.
5. The Darkness - 'Christmas Time (Don't Let the Bells End)' (2003)
Number 1: Michael Andrews and Gary Jules - 'Mad World'
Until 2016, 2003 was the last year in which the Christmas number one was not a charity record or related to The X Factor in some way. Not only that, but numbers one and two that year couldn't have been more different.
The eventual winner - a somewhat depressing piano cover of Tears for Fears' 'Mad World' - stayed ahead of The Darkness, who celebrated the wacky side of Christmas, harking back to the days of Slade and Wizzard.
6. Take That - 'Patience' (2006)
Number 1: Leona Lewis - 'A Moment Like This'
Take That were robbed of a Christmas number one back in 1993, when 'Babe' was kept off the top by Mr Blobby of all things.
They had a second chance over a decade later with their amazing comeback single, but again they were pipped to the post, this time by the third of winner of The X Factor, which was a bit of a shame.
7. ABBA - 'I Have a Dream' (1979)
Number 1: Pink Floyd - 'Another Brick in the Wall'
While Pink Floyd's track is an outstanding classic, it's not the most Christmassy of all time, is it?
At number two that year was the world's biggest group, with a gorgeous festive-sounding ballad. 20 years later, Westlife made amends by taking their cover version to the Christmas top spot, but ABBA were robbed.