Robbie Williams unveils new song for the Military Wives movie soundtrack - listen now
11 March 2020, 12:49 | Updated: 11 March 2020, 12:51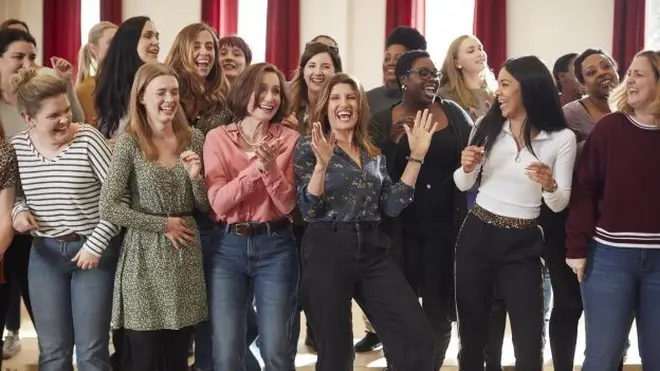 The Military Wives won the hearts of the nation after their amazing journey to securing the Christmas number one in 2011.
A movie adaptation of their story is out now, with some high-profile names attached. Here is all you need to know so far:
Military Wives trailer: Is there a teaser for the movie?

The first full trailer was unveiled on December 17, and shows the cast of characters as they embark on their choir journey.

Military Wives release date: When will it come out?

The movie was released on March 6, 2020 in the UK.

Military Wives movie plot: What is the film about?

Wherever You Are (Military Wives with Gareth Malone) Official Video

Like the real-life story, the film will focus on a group of women who form a close bond, and eventually set up a choir to help them cope with being separated from their loved ones, who are serving in the armed forces.

Formed in 2010, the real choir has performed at major military events, and also at the Diamond Jubilee Concert. Choirmaster Gareth Malone created the group at the Royal Marines Base Chivenor, as part of the fourth series of the BBC series The Choir.

Military Wives cast: Who will star?

Kristin Scott Thomas and Sharon Horgan will star in Military Wives.

Picture: Getty

Kristin Scott Thomas and Catastrophe star Sharon Horgan will play the lead roles in the movie.

It will also star Downton Abbey's Emma Lowndes, Greg Wise, Jason Flemyng, Gaby French, Lara Rossi, Amy James-Kelly and India Ria Amarteifio among others.

The film will be directed by The Full Monty's Peter Cattaneo, with the score being composed by Mission: Impossible – Fallout's Lorne Balfe.

Robbie Williams has written a song for the movie

Home Thoughts From Abroad

Robbie Williams and Guy Chambers have written a song for the film, after being approached by producers via music supervisor Liz Gallacher.

It is not yet known if Robbie will also sing the track, or whether it will be recorded by choir.

Speaking about the song, Robbie and Guy said: "It's always a joy to work together on new music, and we're thrilled that our new song will be featured in this special film. We're really proud of the track and can't wait for you all to hear it."

Robbie Williams. Picture: Getty

The production team added: "Over the last few months, Kristin, Sharon and our hugely talented ensemble cast have put their hearts and voices into telling this tale, which demonstrates how a community of strong women can come together and literally change lives.

"Having Robbie and Guy collaborate with us on the original music, which is so essential to the journey of these characters, is truly exciting."

The soundtrack is available now, and also features a score from Lorne Balfe.