50 of the most valuable vinyl records on the planet: from The Beatles and Queen, to Olivia Newton-John
11 September 2019, 14:50 | Updated: 14 October 2020, 22:24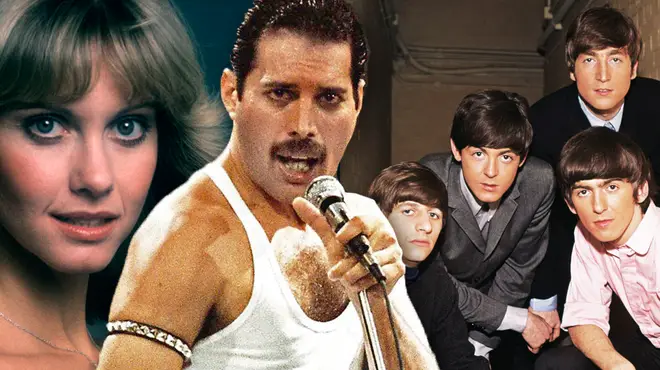 Do you have one of these valuable records at home?
While many of us stream our music these days, there's no denying that vinyl records provide an unparalleled listening experience; there's something incredibly special about the ritual of removing the record from its sleeve, placing it on the turntable and hearing that scratching noise as you lower the needle onto the LP.
According to BPI, "interest in vinyl remains buoyant" and there's been a staggering 128 per cent rise in vinyl sales since 2015. Vinyl sales have also overtaken CD sales in the UK, with over 4.2million records being sold last year alone - the highest figure in 27 years.
If you, too, are one of the many fans of records, you could be sitting on a small fortune if you have one of these babies in your record collection.
Here are the most valuable vinyl records going - including LPs from The Beatles, Queen, and Olivia Newton-John.
50 of the most valuable vinyl records
50) Steel City Connection – Dansation/Steel City Disco – £500
49) Thriller/Delta Cats – Last Dance/Unworthy Baby – £1,000
48) The Velvet Underground & Nico – The Velvet Underground & Nico – £1,000
47) Terea – Terea – £1,000
46) Nirvana – Love Buzz/Big Cheese – £1,750
45) World's Experience Orchestra – The Beginning Of A New Birth – £2,000
46) Tudor Lodge – Tudor Lodge – £2,000
43) The Smiths – Hand In Glove/Handsome Devil – £2,000
42) Stonewall – Stonewall – £2,000
41) Pink Floyd – The Piper At The Gates Of Dawn – £2,000
40) Nicholas Greenwood – Cold Cuts – £2,000
39) Charlie Parker – Bird Blows The Blues – £2,000
38) Brute Force – King Of Fuh/Nobody Knows – £2,000
37) U2 – Three – £2,000
36) Sun Ra – Super-Sonic Jazz – £2,500
35) Madonna – Erotica – £2,500
34) Prince – The Black Album – £3,000
33) Michael Garrick Trio – Moonscape – £3,000
32) Leonid Kogan And Elisabeth Gilels – Sonatas For Two Violins – £3,000
31) Led Zeppelin – Led Zeppelin – £3,000
30) Leaf Hound – Growers Of Mushroom – £3,000
29) John Lennon and Yoko Ono – Unfinished Music No. 1. Two Virgins – £3,000
28) Genesis – The Silent Sun/That's Me! – £3,000
27) Folkal Point – Folkal Point – £3,000
26) Arthur Verocai – Arthur Verocai – £3,000
25) Robert Johnson – I Believe I'll Dust My Broom/Dead Shrimp Blues – £3,500
24) Various – Our First Four – £4,000
23) Sonny Clark – Cool Struttin' – £4,000
22) Lula Cortes E Ze Ramalho – Paebiru – £4,000
21) Jutta Hipp – Jutta Hipp With Zoot Sims – £4,000
20) Complex – Complex – £4,000
19) Margarita Madrigal – Madrigal's Magic Key To Spanish Volume 1 And 2 – £4,000
18) Queen – Bohemian Rhapsody/I'm In Love With My Car – £4,500
17) Olivia Newton-John – Xanadu – £5,000
16) Hank Mobley – Hank Mobley – £5,000
15) Charley Patton – Pony Blues/Banty Rooster Blues – £5,000
14) Billy Nicholls – Would You Believe – £5,000
13) The Beatles – Please Please Me – £6,000
12) The Beatles – Introducing The Beatles – £7,000
11) Elvis Presley – That's All Right/Blue Moon Of Kentucky – £7,000
10) The Rolling Stones – Street Fighting Man/No Expectations – £8,000
9) The Beatles – Yesterday And Today – £8,000
8) Junior McCants – Try Me For Your New Love/She Wrote It I Read It – £9,000
7) The Beatles – The Beatles (White Album) – £10,000
6) Sex Pistols – God Save The Queen/No Feelings – £10,000
5) Dark – Dark Round The Edges – £10,000
4) Darrell Banks – Open The Door To Your Heart/Our Love (Is In The Pocket) – £15,000
3) Frank Wilson – Do I Love You (Indeed I Do)/Sweeter As The Days Go By – £25,000
2) The Beatles – Sgt. Pepper's Lonely Hearts Club Band – £70,000
1) The Quarrymen – That'll Be The Day/In Spite Of All The Danger – £200,000