ABBA 'won't perform live ever again', says their manager
30 April 2018, 10:17 | Updated: 30 April 2018, 16:34
We were all overjoyed to hear that ABBA had reunited for brand new music last week.
Fans of pop everywhere rejoiced when all four members confirmed that they had recorded new music together, ahead of a special hologram show later this year.
But will we ever get to see ABBA perform live together again?
Well, sadly their business partner says no.
Gorel Hanser says that Agnetha Faltskog, Bjorn Ulvaeus, Benny Andersson and Frida Lyngstad have only produced more material for their "avatar tour".
She told the Daily Star: "They will not be performing as a group again.
"Bjorn and Benny talked about maybe it would be good to have a couple of new songs included in this show ... and then they wrote some new songs for this show."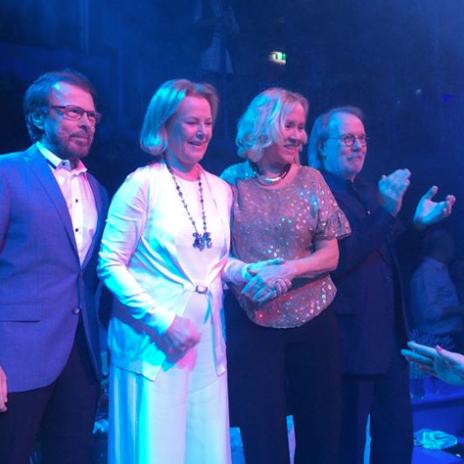 New song 'I Still Have Faith In You' will debut on a special documentary in December, while a second track titled 'Don't Shut Me Down' will apparently be heard first on their hologram tour.
She added: "They have always done it their own way. They did it today the way they always did. The way Benny writes music."
In a statement online, ABBA announced on Friday: "It was like time had stood still and that we have only been away on a short holiday. An extremely joyful experience.
"It resulted in two new songs, and one of them 'I Still Have Faith In You' will be performed in a TV special produced by NBC and the BBC aimed for broadcasting in December. We have may come of age, but the song is new, and it feels good. Agnetha, Benny, Bjorn, Anni-Frid - Stockholm, Sweden, 27 April 2018. (sic)"
The digital tour headlined by computer-generated 'Abbatars' is expected to launch in 2019 or the year after.
Talking about making holograms, Bjorn said previously: "They photographed us from all possible angles, they made us grimace in front of cameras, they painted dots on our faces, they measured our heads. Apparently a cranium doesn't change with age the way the rest of your body falls apart."