Adele threw a Titanic-themed birthday party, and some fans found it "distasteful"
8 May 2018, 09:56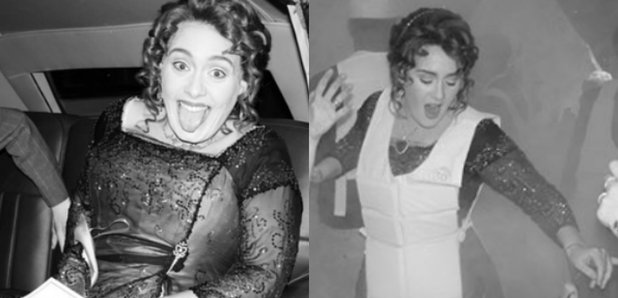 Adele has been met with some criticism online, after throwing a Titanic-themed 30th birthday party.
The singer posted several images of her big weekend bash on her social media accounts, in which she dressed up like Kate Winslet's character Rose in the movie Titanic, and was seen dancing with guests while wearing life-jackets.
"Dirty 30!" Adele wrote on Instagram. "I'm not sure what I'm going to do for the next 30 years as I've been blessed beyond words in my life so far. Thank you to everyone for coming along for the ride the last 11 years with me.
"My family and friends for entertaining my super fandom of the Titanic movie. Last night was the best night of my life. Here's a couple pics. I'm absolutely f*****, not sure I'll make it out the house again!
Most parties you leave with a goody bag!!! But a life jacket?!!!! WTF?!! Ha! pic.twitter.com/gFuP4bft4M

— Alan Carr (@AlanCarr) May 7, 2018
While many fans sent Adele some birthday messages and loved the look of her party, others were not best pleased, arguing that the theme was inappropriate, due to the 1912 disaster the movie was based on.
"I feel this is very distasteful," said one fan. "I can understand the theme but only as far as a fancy boat. Wearing life jackets is entirely disrespectful and quite frankly disgusting.
"So many people died at this horrific tragedy and dancing around in life jackets that could have saved so many people is horrific."
Another said: "Isn't this very inappropriate? Adele's Titanic themed birthday party had them dancing in life jackets… thousands of people actually died."
Others added:
Isn't this kinda/very inappropriate? Adele's Titanic themed birthday party had them dancing in life jackets... Thousands of people actually died. pic.twitter.com/Ya0xOEarfH

— regina phalange (@FightOnGaga) May 7, 2018
why is everyone loving that adele had a TITANIC themed party??? are we forgetting that it actually happened??? people actually died on there??? just me who can't see how it's even remotely amusing to give people life jackets at a party when people genuinely lost their lives? lol

— (@tearinmegsheart) May 7, 2018
People are sick for praising @Adele on her Titanic party, dancing with fucking life vests. PEOPLE DIED AND IT WAS A TRAGEDY.

— mathilda (@BOY_PwoperFish) May 7, 2018
However, others were supportive of Adele, with one stating: "Adele had a Titanic themed birthday party. She is wearing Rose's gown and dancing in a life jacket. I have never loved anything more."
"You're wrong here," said another. Adele is never problematic, it was the movie that she set as here party's theme and not the actual tragedy. Titanic was a love story with tragedy as its backdrop,. I guess it's simple to understand."
Another said: "If she doesn't release a cover of 'My Heart Will Go On'… Adele I'm not playing, I've offed my wig already."
Adele has shown how much of a fan she is of all thing (movie) Titanic-related. Last year, she posed with her idol Celine Dion, the singer of its theme 'My Heart Will Go On'.