'Blurred Lines' final verdict charges Robin Thicke and Pharrell $5 million for copying Marvin Gaye's 70s hit
13 December 2018, 10:40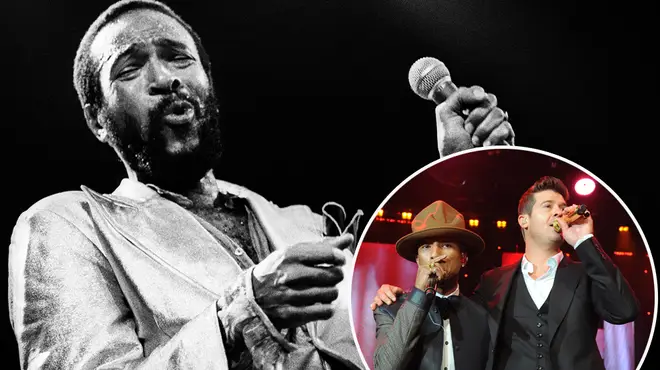 The long-running feud over Pharrell Williams and Robin Thicke's song 'Blurred Lines' has finally come to an end, with both artists due to pay a hefty sum to Marvin Gaye's family.
It all began in 2013 when Marvin Gaye's family claimed that 'Blurred Lines' copied Gaye's song 'Got to Give it Up', released in 1977.
This is not the first time Pharrell and Thicke's song has sparked controversy. Although it went to No. 1 in 2013, it has been at the centre of discussions on sexual consent.
In March 2018, the court announced that Pharrell and Thicke were to pay Gaye's family a total sum of $7.3 million. Pharrell and Thick requested a new trial, but were denied it – however the settlement cost has now been brought down to $5.3 million by US District Judge John A Kronstadt.
What is the copyright infringement?
Gaye's family argues that 'Blurred Lines' is a copyright infringement on Gaye's 'Got to Give It Up', and indeed the two songs are very similar. The instrumentation, beat, style of vocals and 'feel' of 'Blurred Lines' draw remarkable parallels to Gaye's 70s hit.
Pharrell and Thicke have defended their music by stating that it uses inspiration from Gaye rather than taking directly from the track.
Pharrell's lawyer Howard King stated: "While we certainly respect the diligence and care devoted by the court throughout these proceedings, we must agree to disagree on the conclusions."
"We look forward to exercising our further remedies and ultimately achieving clarity on the difference between inspiration and copyright infringement."
What happens next?
The case still isn't over, and Pharrell and Thicke are expected to take the dispute to an appeals court where they will attempt to negate or minimise the charges.
Got To Give lt Up - Marvin Gaye