See brand new Live Aid photos from the Freddie Mercury movie Bohemian Rhapsody
27 April 2018, 10:12 | Updated: 24 June 2018, 16:14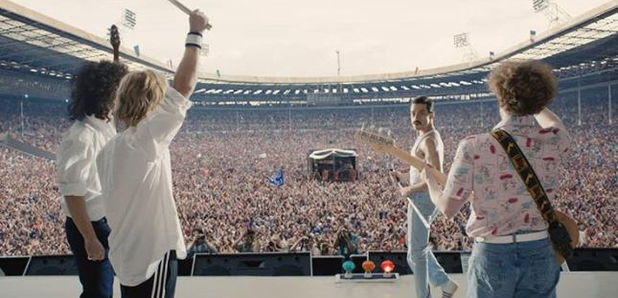 One of the most iconic gigs ever has been recreated in style.
New photos have been released from the upcoming Freddie Mercury movie Bohemian Rhapsody, and it looks pretty impressive.
Rami Malek stars as Freddie in the biopic, which is set for release in November, and follows the band's journey to becoming one of the world's best.
In one photo, Queen are seen looking out to a huge Wembley Stadium crowd for their iconic Live Aid show in 1985:
A second sees Freddie preparing for another show backstage, alongside Brian May (played by Gwilym Lee):
Ben Hardy will play Roger Taylor, while Joseph Mazzello appears as bassist John Deacon.
The first trailer for the movie was released at CinemaCon earlier this week, but sadly this has not yet been released to the public.
Find out more about the movie right here.