Boy George says he recorded a George Michael duet, but has no plans to release it
28 October 2017, 12:00 | Updated: 2 November 2017, 15:29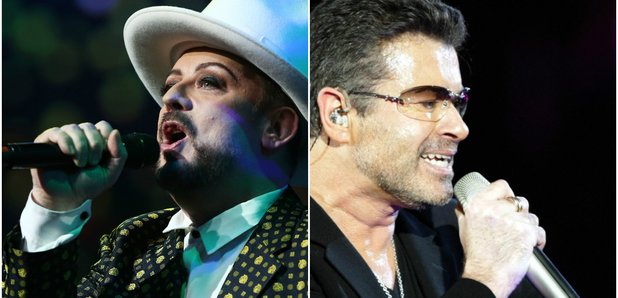 The two biggest Georges of the 1980s (sorry George HW Bush) apparently teamed up for a single, but it failed to materialise.
Boy George has revealed that he and George Michael once recorded a duet together, but that the latter wasn't happy with it.
The Culture Club singer said that he and Michael recorded a studio version of 'Freedom' (the Boy George song from 1987, not to be confused with Michael's song of the same name, or even the Wham! song), a song they performed together at an AIDS charity show.
"We sang it together in the studio but he wasn't happy with it, so it was never ever released," Boy George told news.com.au.
"I know what he was like. It's one of the things I admired about him. I always imagined him in the laboratory with a white coat - his vocals, the production, the harmonies, they were so perfectly executed. Maybe that song is lying around somewhere, unless he wiped it!"
Boy George also elaborated on his recent comments about the posthumous George Michael song 'Fantasy'.
"My point was would have he wanted it out? Prince never wanted his songs on YouTube or Spotify now they're all over both of them. I think that's a good thing. I always used to go on YouTube looking for Prince songs and they weren't on there.
"The point I made was it's amazing George is being celebrated. I quite liked seeing 'Wham Rap' in that new H&M commercial, it made me smile, but I did think what would he say if he was around? But I'm an artist. Rather than criticising, I'm asking how he would feel? I think that's a very valuable question. Why do people think I was slamming him? I was a massive fan. That's why I wonder what he'd think."
George Michael scored a posthumous number one album with the re-release of Listen Without Prejudice Vol 1 this week.