Watch a 4-year-old Bruno Mars perform as Elvis and speak to Jonathan Ross
25 April 2018, 11:57 | Updated: 24 June 2018, 17:35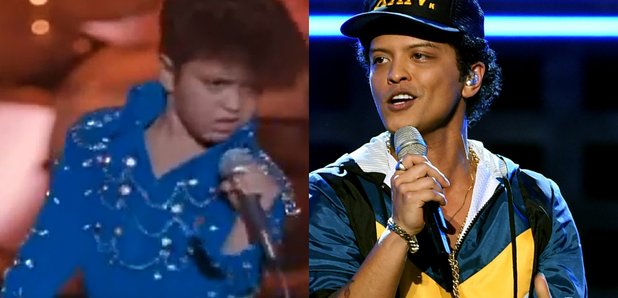 Bruno Mars was a born performer from a VERY young age!
As this video shows, Bruno began his entertainment career as an Elvis Presley impersonator, at the age of four!
In the clip below, a young Bruno and his dad speak to Jonathan Ross for a Channel 4 documentary called Viva Elvis. Who would have thought this little boy would grow up to become one of the world's most popular artists!
Bruno's uncle was also an Elvis impersonator, and he encouraged a three-year-old Bruno to perform on stage.
He performed songs by artists including Michael Jackson and The Temptations, and began performing five days a week with his family's band. In Hawaii, he became known as 'Little Elvis'.
He even had a cameo in the 1992 movie Honeymoon in Vegas!
Jonathan and Bruno reunited years later when he was a guest on the British talk show host's ITV series in 2013:
He's grown up quite a bit!