The shoestring music video for Carly Simon's 'Why' is absolutely hilarious
15 January 2020, 14:49 | Updated: 16 January 2020, 10:31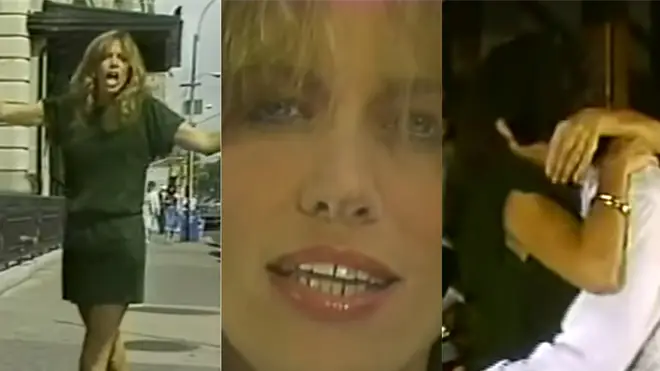 We love the underrated '80s pop gem that is 'Why' by Carly Simon, but we only just rediscovered its music video, and we now we can't stop watching it.
The video - recorded in the summer of 1982 in the upper west side of Manhattan, New York - was clearly filmed on a shoestring budget, and that's what makes it so enjoyable.
Carly is seen dance-walking along the sidewalk, before random members of the public are filmed miming the lyrics of the song.
The VHS genuinely cuts out at this point. Bear in mind, this is from Carly's official channel, so this is the most HD version out there.
Carly then joins a bunch of blokes at a nearby bar/restaurant, while she continues to mime the lyrics and flirt with her new friends.
She then gets herself an ice cream, which she accidentally (yet seductively) spills down herself.
We then see a young girl decide to pour what looks like a bottle of wine over man's head, while he sings along to the chorus as if nothing is happening and this kind of thing happens all the time.
Then, a waiter appears - now, we have no idea if this was an actor or a genuine waiter who couldn't believe his luck - but Carly stops him and they share a genuine embrace before she leaves him hanging.
Carly then heads over to another gentleman, and it doesn't look his lady friend is impressed. It cuts quickly before we see what happened next. For all we know, a full-on fight occurred at this point.
Back to the merriment of strangers:
Then Carly is seen hunting for more prey before another potential embrace between her and an innocent bystander trying to enjoy his beverage.
End video.
All in all, it's the greatest music video of all time. Watch it in full below:
'Why' was recorded for the soundtrack for the 1982 movie Soup for One. While the movie itself was largely panned, its soundtrack was successful, as it was produced by Chic's Nile Rodgers and Bernard Edwards.
The song reached number 10 in the UK, but criminally only number 74 in the US.