Coldplay's new album Everyday Life: Release date, tracklist and all the details you need to know
24 October 2019, 09:25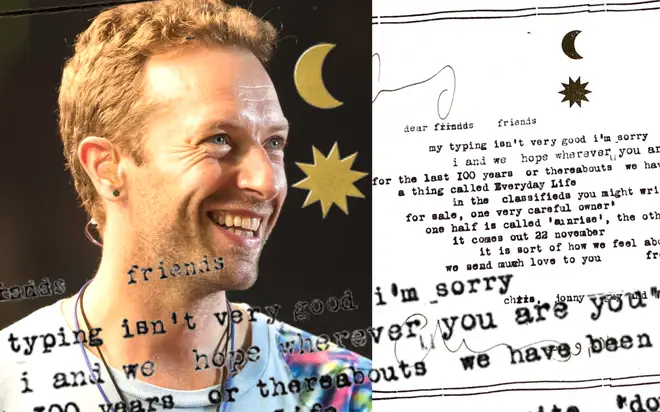 Coldplay are about to release their brand new album called Everyday Life, which will be split into two halves.
Coldplay teased their return with a series of cryptic posters which were spotted in Berlin, Hong Kong and Sydney.
They also changed their social media profile pictures to an image of the sun and the moon.
Shortly after, several fans started receiving "strange" letters about the band's return next month.
When will Coldplay's new album be released?

Coldplay's new album Everyday Life will be released on November 22, the band has confirmed.

What will the new Coldplay album be called?

Coldplay's new album will be titled Everyday Life.

It is expected to be a double album, with one half called 'Sunrise' and the other 'Sunset'.

What is the tracklisting?

Coldplay confirmed the tracklist by announcing it in the advertising section of the North Wales Daily Post.

In an unusual move, the special Coldplay advert appeared on page 31 alongside items for sale (such as a fridge freezer and a bale of hay), and below a Welsh Government public notice.

Coldplay's Jonny Buckland, who grew up in Pantymwyn, Wales, tweeted his connection to the Daily Post.

The tracklisting is:

Sunrise

1. 'Sunrise'
2. 'Church'
3. 'Trouble in Town'
4. 'BrokEn'
5. 'Daddy'
6. 'WOTW / POTP'
7. 'Arabesque'
8. 'When I Need a Friend'

Sunset

1. 'Guns'
2. 'Orphans'
3. 'Èko'
4. 'Cry Cry Cry'
5. 'Old Friends'
6. '-'
7. 'Champion of the World'
8. 'Everyday Life'

How did Coldplay announce their new album?

Coldplay announced their new album by plastering posters on billboards that featured the band in a black and white vintage-inspired shot.

The posters saw the band sat with German philosopher, poet, and composer Friedrich Nietzsche and the date November 22, 1919.

The letter states: "In the classifieds you might write 'double album' for sale, one very careful owner. One half is called 'Sunrise', the other 'Sunset'. It is out 22 November.

"It is sort of how we feel about things. We send much love to you from hibernation. Chris, Jonny, Guy and Will Champion."