Who is Livin' Joy's Janice Robinson, the singer who brings Robbie Williams to tears?
31 August 2018, 17:14 | Updated: 31 August 2018, 17:16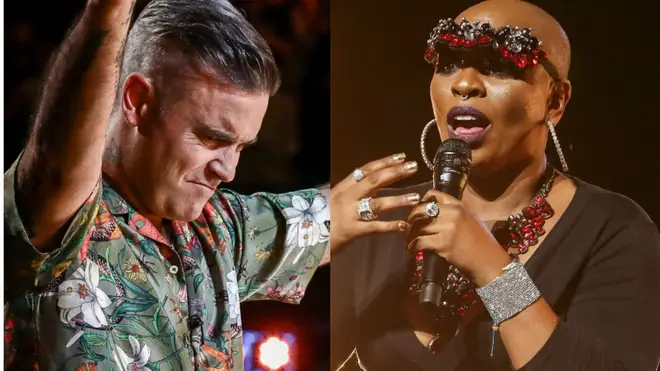 She sang one of the biggest dance hits of the 1990s, but you might not know her by name.
Janice Robinson wrote and sang 'Dreamer', a 1995 number one for dance act Livin' Joy.
And on The X Factor this weekend, the talented singer wows the judges as a contestant, and particularly strikes a chord with fan Robbie Williams.
Who is Janice Robinson?

Janice Robinson is a 50-year-old American singer who was a member of Livin' Joy before embarking on a solo career. Livin' Joy were a Eurodance group with Italian brothers Paolo and Gianni Visnadi.

She was the lead singer of the dance outfit, before she left the group in 1999.

Janice co-wrote and sang the lead vocals on 'Dreamer', which was an international hit and reached number one in the UK in 1995.

Is Janice Robinson on The X Factor?

Janice Robinson appears in the first episode of The X Factor 2018, where she impressed the judges with a rendition of her most famous hit.

"It started with a song I wrote 23 years ago, it's a song called 'Dreamer'," Janice told the judging panel.

After her performance, Simon described the track as a "big record", while Louis Tomlinson – who was only 4 at the time of its release – called it a "banger".

Robbie Williams found the performance particularly moving, telling her: "Your song has been a major soundtrack of my life.

"I was transported to a time there, to a person that I used to be and they were incredible times for me, but messy times.

"I could cry but I'm going to try not to because I'm on the TV, but I've just had an incredibly special moment right here on stage with you and I just want to thank you."

Livin' Joy 'Dreamer' lyrics: What are the lyrics to Janice's club classic?

I'm a dreamer
Love life and laughter is all I believe
My savior is pure now because my lonely heart would bleed
I never learned how to hold love and stay strong to love
Now I close my eyes now and I'm dreaming right where I belong

Here we lie all alone am I dreaming?
Your heart's smooth my soul is unbelieving
Now you see the me and I'm feeling, I'm feeling
I feel your hands, your lips, the heat of your body
Whisper your love to me say that you love me
Please just love me down and never leave me,
I'm a dreamer

Here we lie all alone am I dreaming?
Your heart's smooth my soul is unbelieving
Now you see the me and I'm feeling, I'm feeling
I feel your hands, your lips, the heat of your body
Whisper your love to me say that you love me
Please just love me down and never leave me,
I'm a dreamer

Am I a dreamer?
Am I a dreamer?

Love life and laughter is all I believe
My savior is pure now because my lonely heart would bleed
I never learned how to hold love and stay strong to love
Now I close my eyes now and I'm dreaming right where I belong
Here we lie all alone am I dreaming?

Your heart's smooth my soul is unbelieving
Now you see the me and I'm feeling, I'm feeling
I feel your hands, your lips, the heat of your body
Whisper your love to me say that you love me
Please just love me down and never leave me,
I'm a dreamer