Maya Rudolph and the tragic story of her mother Minnie Riperton
12 August 2020, 14:21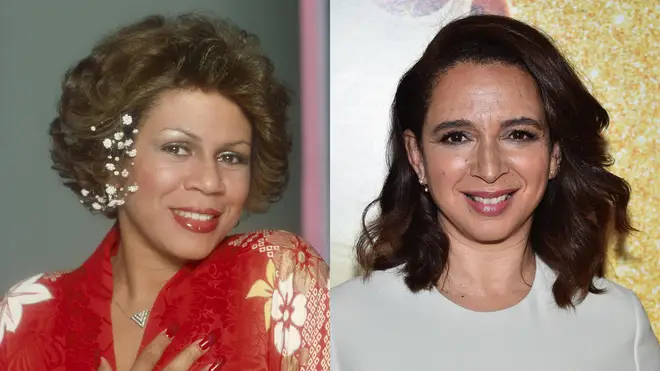 Maya Rudolph has become one of the funniest and best loved comic performers of her generation, thanks to her time on Saturday Night Live and roles in film and TV such as Bridesmaids and The Good Place.
She's likely to become even busier in the coming months (and potentially years), as one of her most famous send-ups on SNL, Kamala Harris, has been named as Joe Biden's running mate in his attempt to become the next US President.
But what you may not know about the supremely talented star, is that her mother was none other than singer Minnie Riperton.
Best known for her songs 'Lovin' You' and 'Inside My Love' among others, Minnie was a very popular star who sadly died at a young age.
This is the story of Maya's relationship with her mother, and how she helped inspire one of the biggest love songs of all time.
Who is Maya Rudolph?

Whitney Houston on Weekend Update - Saturday Night Live

Maya Rudolph is an American actress, comedian, and singer.

She first found fame in the mid-1990s as a member of the rock band The Rentals, before joining The Groundlings improv group.

In 2000, she became a cast member on the NBC late-night sketch comedy show Saturday Night Live, and soon landed roles in films such as 50 First Dates and Idiocracy.

Maya Rudolph in 2016. Picture: Getty

After leaving Saturday Night Live in 2007, Maya has appeared in various films, including Grown Ups and its 2013 sequel, Bridesmaids, Sisters and Wine Country.

Maya still pops up on SNL from time to time, in recent times to send-up politician Kamala Harris.

Among her other impersonations over the years include Whitney Houston, Barbra Streisand, Beyoncé, Jennifer Lopez, Michelle Obama, Oprah Winfrey, and Tina Turner.

She has been in a relationship with film director Paul Thomas Anderson since 2001, and they have four children together.

Who was Minnie Riperton?

Minnie Riperton in 1975. Picture: Getty

Minnie Riperton was an American singer-songwriter, best known for her 1975 single 'Lovin' You'.

She was also known for her impressive five-octave coloratura soprano range. She famously used the whistle register when singing, and has been referred to as the 'Queen of the whistle register'.

Born in 1947, Minnie grew up in Chicago, and in her teens sang lead vocals for the local girl group the Gems.

She soon sang backing vocals for various stars such as Etta James, Fontella Bass, Chuck Berry and Muddy Waters.

In 1975, she scored a number one single in the US with 'Lovin' You'.

When was Maya Rudolph born and who is her dad?

Minnie Riperton, her husband Richard Rudolph and children Maya and Marc in 1978. Picture: Getty

Minnie Riperton was married to songwriter and music producer Richard Rudolph from August 1970 until her death in July 1979.

Together, they had two children; music engineer Marc Rudolph (born 1968) and Maya (born 1972).

Richard Rudolph's career as a record producer began when he and Stevie Wonder both produced Minnie's second album, Perfect Angel.

What happened to Minnie Riperton?

Minnie Riperton. Picture: Getty

In January 1976, Minnie was diagnosed with breast cancer, and in April, she underwent a mastectomy.

By the time of diagnosis, the cancer had already metastasized, and she was given just six months to live. Despite this, she continued recording and touring.

She was one of the first celebrities to go public with a breast cancer diagnosis, but she did not reveal that she was terminally ill at the time.

In 1977, she became a spokesperson for the American Cancer Society. In 1978, she received the American Cancer Society's Courage Award, which was presented to her at the White House by President Jimmy Carter.

Riperton died of cancer on July 12, 1979, aged just 31.

Maya Rudolph inspired her mother's biggest hit

Minnie Riperton - Loving you

Richard Rudolph began composing 'Lovin' You' in 1971, while he and Minnie were living in Chicago.

The couple later moved to Florida, where work on the song continued after Maya was born in 1972.

According to the liner notes from Minnie's compilation album Petals, the melody for 'Lovin' You' was created as a distraction for Maya as a baby, so that Minnie and Richard could hang out.

Maya was in the studio with Minnie on the day it was recorded, and Minnie can be heard singing her daughter's name at the end of the song, but only in the unedited or album versions.

The song fades out early in the radio edit, because DJs as the time apparently thought that the repeated 'Maya' line would be misunderstood as a religious chant.

What has Maya Rudolph said about her mother?

Maya Rudolph. Picture: Getty

Maya spoke in depth about Minnie to the New York Times in 2018, discussing the pain she felt at being just seven when she died.

"When I was a kid, and people would come up to me or stare at me because of my mom, I didn't like it," she said. "I really didn't like it. I used to think, 'Oh, they're staring at my hair, because it's so big and ugly.'

"Because I didn't realize people were just staring at my mother, like, 'Wow, that's her daughter!'" the actress says. "I didn't know; I was a kid. And kids always personalize things."

She continued: "For many, many years, I couldn't even touch this conversation. Like my mom was always — it was such a painful — I don't remember if I ever did proper grieving.

Maya Rudolph On Her Mother's Iconic Album: Minnie Riperton's Perfect Angel: Part 4

"I know I did, but it came out in ways—like when I was a kid, I went to a new school and I kicked people. I was like the kicker for a year. And then people tell me stories that I don't remember, like I'd be crying at a roller-skating party, and they were like: 'What's wrong? Why are you crying?'

"And I wanted to skate with a boy, and they said that I was like, 'My grandma died.' Which wasn't true! But I was f***ing laying it on thick. I definitely think that children process very differently. And I'm genuinely fascinated by it, so I wish I knew all the ways that I do or did, but I don't.

"But I know that the place that I was with it most of my life was more of a, 'Poor me, why me?' Up until very recently, it was still, like, a sting to talk about her."

For a big period of her youth, Maya added that she felt "completely" lost: "My mom died when I was 7, so when you don't have a woman... First of all, hair products that exist today did not exist when I was a child.

"The detangling system that I use now on my children is light-years beyond anything that would've ever happened to me growing up in Westwood."

Maya also explained that she prefers to keep her children private: "I grew up with people knowing who my mother was, and that isn't lost on me. I understand that I probably have more of an awareness of strangers' recognizing me."