Watch emotional crowd sing 'Ave Maria' as Notre Dame burns in Paris
16 April 2019, 12:27 | Updated: 16 April 2019, 15:29
A crowd of onlookers gathered to watch fire engulf Note Dame in Paris were filmed singing a moving rendition of 'Ave Maria'.
Members of the crowd watched in horror as the famous cathedral burned and started singing 'Ave Maria' with some even kneeling in the street as they sang.
Videos show shocked onlookers struggle to come to terms with the unfolding fire as crowds gathered to sing in the streets surrounding the cathedral.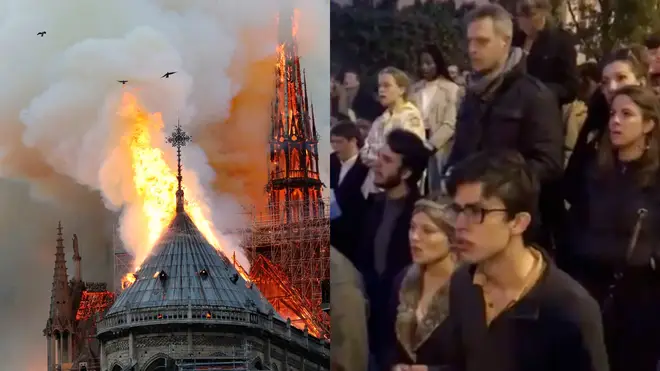 People across the world took to social media to share in their grief at the fire has hundreds of firefighters tackled the blaze throughout the night (April 15).
One Twitter user wrote: "This is devastating! It [Notre Dame] survived a world war, we have lost a part of history that has stood as a symbol for a 1,000yrs. Some people have no idea! I am pleased no one lost their lives, but feel sad at such a devastating loss of a beautiful monument to so many people of faith."
Another user from America said: "My heart hurts so badly for the tragedy in Paris of the destruction of the Notre Dame cathedral. My heart is breaking all the way in America. I know it's located in Paris, but feel like this is devastating to the world. You are in my heart Paris."
The blaze broke out in the 850-year-old historic building at around 7pm local time with teams racing into the burning building in a bid to to save priceless relics and religious artefacts.
The fire was extinguished 14 hours after it first started leaving a nation in mourning and donations already being pledged to help rebuild the building.
French billionaire Francois-Henri Pinault said he will donate 100 million euro (£86 million) to resurrect Note Dame, proclaiming the cathedral as "symbol of spirituality and our common humanity".