Ozzy Osbourne and Elton John's new duet is fantastic and very poignant
23 January 2020, 11:34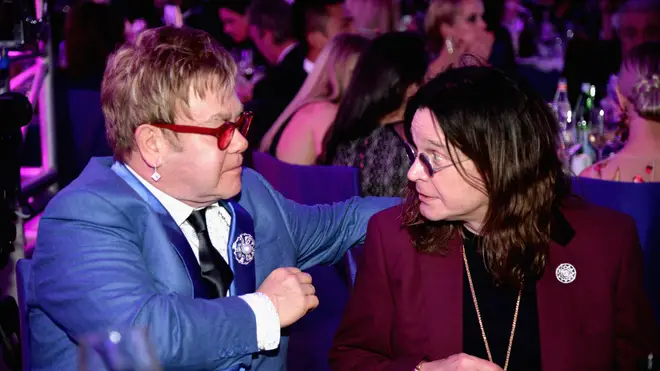 Last week, Ozzy Osbourne unveiled a brand new song: a duet with Sir Elton John on the track 'Ordinary Man'.
The lyrics speak of not wanting to die as an 'ordinary man', as the colours "fade away" when getting older.
Just a few days later, Ozzy announced to the world that he had been battling Parkinson's disease for some time in an emotional TV interview with wife Sharon Osbourne.
Since then, the song has taken on another air of poignancy, as Ozzy continues to battle the condition and keeping up his strength.
Listen to the song below:
Ozzy Osbourne - Ordinary Man (Audio) ft. Elton John
Ozzy said of the new track: "It all just came together. Slash is a dear friend of mine, as is Elton. When I was writing 'Ordinary Man,' it reminded me of an old Elton song and I said to Sharon, 'I wonder if he would sing on it?'
"We asked and lo and behold, he agreed and sings and play piano on the song."
"I'm just so happy for Ozzy that it's been well-received," Sharon later said of the song. "I can't listen to it all the way because it makes me cry. I just can't."
Parkinson's disease is a neurodegenerative disorder that progresses slowly in most people, and has no cure.
"It's PRKN 2," said Sharon. "There's so many different types of Parkinson's; it's not a death sentence by any stretch of the imagination, but it does affect certain nerves in your body. And it's -- it's like you have a good day, a good day, and then a really bad day."
Ozzy postponed his world tour last year, and he stayed out of the spotlight while he recovered at home.
"I got a numbness down this arm for the surgery, my legs keep going cold," he said. "I don't know if that's the Parkinson's or what, you know, but that's -- see, that's the problem. Because they cut nerves when they did the surgery. I'd never heard of nerve pain, and it's a weird feeling."
The full Ordinary Man album will be released on February 21.
The lyrics for the song read:
I was unprepared for fame
Then everybody knew my name
No more lonely nights, it's all for you
I have traveled many miles
I've seen tears and I've seen smiles
Just remember that it's all for you

Don't forget me as the colors fade
When the lights go down, it's just an empty stage
Okay

Yes, I've been a bad guy
Been higher than the blue sky
And the truth is I don't wanna die an ordinary man
I've made momma cry
Don't know why I'm still alive
Yes, the truth is I don't wanna die an ordinary man

Many times I've lost control
They tried to kill my rock and roll
Just remember I'm still here for you
I don't wanna say goodbye
When I do, you'll be alright
After all, I did it all for you
Don't forget me as the colors fade
When the lights go down, it's just an empty stage
Okay

Yes, I've been a bad guy
Been higher than the blue sky
And the truth is I don't wanna die an ordinary man
I've made momma cry
Don't know why I'm still alive
Yes, the truth is I don't wanna die an ordinary man