Watch Paul McCartney surprise fans with a secret gig in Liverpool
11 June 2018, 11:03 | Updated: 11 June 2018, 11:08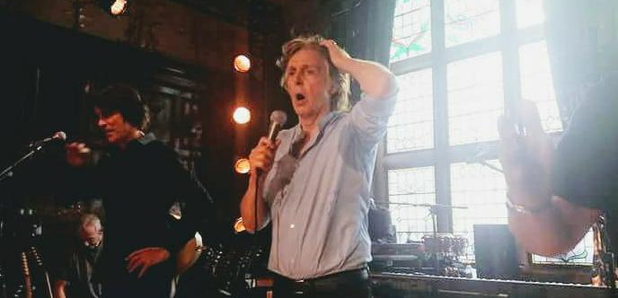 It's not every day that you spot an actual Beatle wandering about, let alone playing a surprise gig in a pub.
Sir Paul McCartney performed a secret gig for fans in Liverpool at the weekend (June 9), at the city's Philharmonic pub.
The rock icon was seen walking around the city with James Corden a few hours before the show, and the pair were spotted taking selfies outside some of Liverpool's biggest landmarks – including the Beatles statue at the Pier Head.
Later, the Liverpool Echo reported that TV company SRO Audiences were offering locals the chance to be in the audience at the pub for a secret set from a "global superstar."
While it hasn't been confirmed, the gig is likely to form part of Corden's US series The Late Late Show.
Paul Mccartney aujourd'hui à Liverpool pour une visite et un secret gig dans un pub ! pic.twitter.com/8LQAM26l0T

— Mic frebert (@micfrebert) June 9, 2018
Paul McCartney was in Liverpool today with James Corden, and did a 'secret' gig at the Philharmonic Pub! For full details see https://t.co/9nE1KU1Qqc pic.twitter.com/em066FiDaE

— Beatles London Blog (@BeatlesCoffee) June 9, 2018
Sir Paul McCartney is spotted in Liverpool! The Mac is back! pic.twitter.com/ZpFkj2TRj4

— The Beatles Story (@beatlesstory) June 9, 2018
Macca apparently performed 'Love Me Do', 'I Wanna Be Your Man', 'Back in the USSR', 'Birthday', 'I've Got A Feeling' and 'Hey Jude' among others.
Fans have recently speculated that McCartney may soon release new music, after his social media profile photos were removed.
Last month, Sir Paul was made a Companion of Honour for his contribution to music, following on from the likes of Vera Lynn, Stephen Hawking, Judi Dench, and JK Rowling.