Watch Pink sing an adorable 'Greatest Showman' song with 7-year-old daughter Willow
25 October 2018, 09:27 | Updated: 25 October 2018, 10:02
The song will feature on a brand new Greatest Showman album.
Pink has released a video of her duetting with her daughter Willow for a lovely cover of a Greatest Showman favourite.
The singer and her seven-year-old daughter Willow performed a version of 'A Million Dreams', which will be featured in the upcoming album The Greatest Showman — Reimagined.
The 2017 movie starring Hugh Jackman as circus leader PT Barnum has been a huge success, with its soundtrack breaking records all around the world.
Following its success, a new all-star album will see famous singers covering tracks from the film.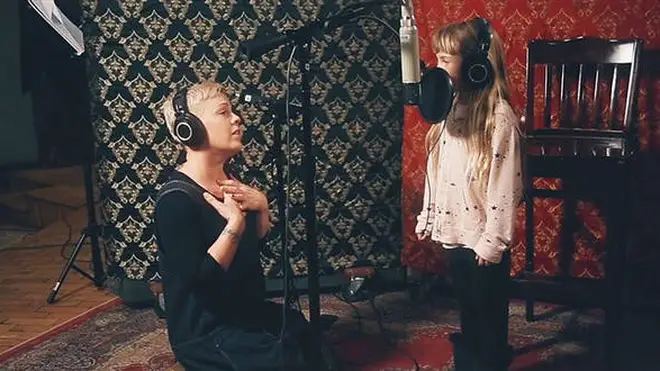 This new behind-the-scenes video sees Pink take on Hugh Jackman's song, while her daughter Willow provides backing vocals.
Pink can clearly be seen showing her pride over her daughter, and giving her two thumbs up.
P!nk - A Million Dreams [from The Greatest Showman: Reimagined]
Speaking about how much the movie means to them both, Pink said: "I grew up listening to Annie, and no one has done this for me, for my heart since I was a little girl.
"And to have her finally have something like this ... You made our favourite movie ever."
Kelly Clarkson, Craig David and James Arthur are also among the artists who will feature on the new album.