Naughty: Robbie Williams sticks up his middle finger during World Cup show
14 June 2018, 16:18 | Updated: 15 June 2018, 10:02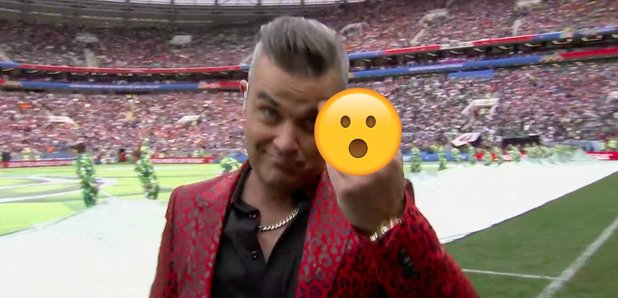 Warning: This article contains profanity that some people may get offended by.
Robbie Williams put on a brilliant performance to kick off the World Cup 2018 earlier today (June 14).
However, eagle-eyed viewers spotted the popstar being his usual cheeky self, that might get him into trouble down the line.
Robbie quite clearly sticks up his middle finger during a burst of 'Rock DJ':
And here's another look:
Robbie Williams is such a melt showing his middle finger! #WorldCupRussia2018 #WorldCup pic.twitter.com/klqg7smwgd

— Shuj (@ChocMilkSheikh) June 14, 2018
Just before he did so, he appeared to change the lyrics to "I did this for free", relating to him appearing at the opening ceremony for no fee.
Not too many people would risk swearing in front of several billions of people!
He also sang 'Let Me Entertain You', before being joined by celebrated Russian soprano Aida Garifullina on 'Feel' and 'Angels'.
Oh dear, Robbie!