Shakin' Stevens facts: Singer's real name, age, songs, children, wife, and net worth revealed
22 December 2020, 18:05 | Updated: 8 February 2022, 17:13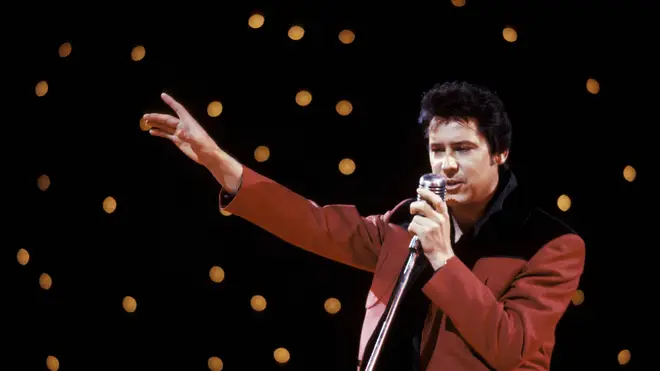 Shakin' Stevens became one of the most surprising popstars of the 1980s, becoming a huge star in the decade.
The singer's brand of retro 1950s-style music struck a chord with the public, making him the UK's best-selling singles artist of the 1980s.
But who is Shaky and what is he up to now? Here's all the important facts:
What is Shakin' Stevens' real name and how did he start in music?

Shakin' Stevens - Merry Christmas Everyone (Official 4K Video)

Shaky's real name is Michael Barratt.

Previously working as an upholsterer and milkman, Michael performed at weekends in clubs and pubs in Cardiff.

He then joined band the Backbeats as its lead singer, and was spotted by manager Paul 'Legs' Barrett, who suggested turning the band into a 1950s-influenced rock 'n' roll group under a new name.

Michael agreed to choose a stage name too, and borrowing from school friend Steven Vanderwalker, he chose Shakin' Stevens.

What are his biggest songs?

Shakin' Stevens - Green Door (Official HD Video)

Shakin' Stevens has had 33 Top 40 hit singles in the UK, including four number ones.

His hits include:

- This Ole House

- Green Door

- Oh Julie

- Merry Christmas Everyone

- You Drive Me Crazy

- Shirley

- A Love Worth Waiting For

- What Do You Want to Make Those Eyes at Me For?

How old is Shakin' Stevens and where is he from?

Shakin' Stevens performing in December 2020. Picture: Getty

Shaky was born on March 4, 1948, in Cardiff, Wales. He celebrated his 72nd birthday in 2020.

He was the youngest of 11 children, to parents Jack and May Barratt. His father was a First World War veteran who worked as a builder and coal miner.

Jack Barratt died in 1972 aged 75, and May Barratt died in 1984, aged 79.

Is Shakin' Stevens married and does he have children?

Shakin' Stevens married partner Carole in October 1967, and they had three children together.

However, they divorced in 2009 after 42 years of marriage.

He soon began a relationship with his manager Sue Davies, whome he credited for saving his life when he had a heart attack in July 2010.

What is Shakin' Stevens' net worth?

According to Celebrity Net Worth, Shakin' Stevens has a net worth of around £15 million.