Shalamar and Smooth's Angie Greaves recall night they found out Prince died - video
28 October 2019, 16:33 | Updated: 28 October 2019, 17:24
Shalamar are one of the greatest R&B and soul vocal groups of all time, and they're back in the UK for a sell-out tour.
Howard Hewett, Jeffrey Daniel and Caroyln Griffey dropped by the Smooth studio to catch up with longtime pal Angie Greaves, to discuss their new show and greatest hits collection Gold, featuring hits such as 'A Night to Remember' and 'I Can Make You Feel Good'.
Speaking to Angie, the band opened up about how they discovered that their idol Prince had passed away when they saw Angie back on April 21, 2016.
"It was the last thing you'd expect to hear," said Howard.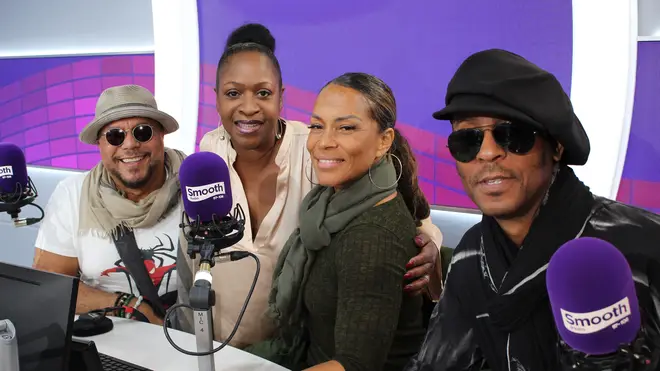 Carolyn explained how the band staged a tribute to Prince at their show the following night, saying: "Each level had lights, we added the Prince tribute. It was almost a spiritual moment.
"We choked our way through it, the place went black and everything was purple. It almost felt like he was there, you could feel his spirit."
Describing a traditional Shalamar gig, Howard said: "It's a party, it's feel good music. We've got so many things happening today that we need as much feel good music as we can get. The music is just timeless, and that's important."
Jeffrey added: "It's a celebration of the legacy of Shalamar. People get that and they connect with that. They're coming to sing and dance along."
Shalamar - "A Night To Remember" (Official Video)
Shalamar have a number of UK dates still to come, including:
Thursday, October 31: Crawley, The Hawth Studio
Friday, November 1: London, Indigo at the O2
Saturday, November 2: Peterborough, The New Theatre
Sunday, November 3: Southend, Cliffs Pavilion
Tickets for Shalamar's tour can be found here. Their new collection Gold is out now.