Smooth's Singalong Challenge: Send us your lip-sync videos!
10 April 2020, 09:00 | Updated: 22 April 2020, 12:15
Today, Smooth Radio's Jenni Falconer is launching Smooth Singalong to help spread some positive cheer and bring the nation together through the power of song.
Each week, Jenni will pick a favourite ballad or crowd-pleasing power-anthem by some of the most iconic artists of our time for a Smooth Singalong.
She'll be asking listeners to film themselves lip-syncing along to a particular song, either by themselves, with flatmates or with the family.
The best singalong videos from Smooth listeners will be chosen and shared weekly across Smooth's social channels!
Jenni is launching Smooth Singalong with the Neil Diamond classic 'Sweet Caroline', and has roped her family, including her daughter Ella, to help. Watch the hilarious video above.
Jenni said: "Much like every other family who is in self isolation we have been finding ways to keep us all entertained, active and occupied and to keep building happy memories at this unsettling time.
"We have had fun making some family Tik Tok dance videos and inspired by my Smooth studio singalong I've brought it to the kitchen and created the Smooth singalong with the family. We're now asking the listeners to get involved and share their own version of 'Sweet Caroline'." 
Here's Smooth's Angie Greaves giving her own hilarious take on 'Sweet Caroline':
Now, we want to see if you can do even better than Jenni and Angie, and send us YOUR lip-syncing videos!
For our Smooth Singalong challenge, we'd like you to send us your videos of you and your fellow quarantine buddies lip-syncing to a different Smooth favourite each week.
For week 2, Jenni took on Enrigue Iglesias's sensual ballad 'Hero', with hilarious results: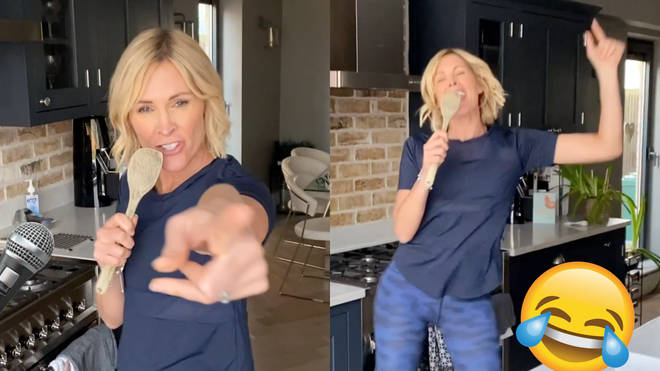 To get involved, just share your video on Twitter or Instagram, making sure to @smoothradio and using the hashtag #SmoothSingalong.
Wooden spoons are optional.
Good luck!