Suggs facts: Madness singer's age, real name, wife, children and more revealed
27 December 2022, 16:37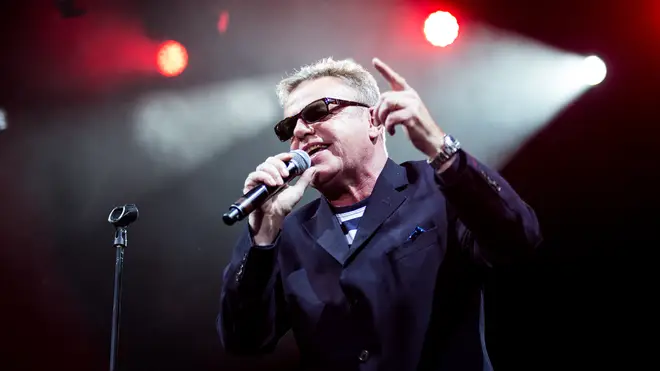 He's the frontman for one of the UK's most popular bands, and he only needs to go by one name: Suggs.
The Madness singer has been busy ever since the ska band burst onto the scene in the late 1970s.
Here are all the fascinating facts about the legendary singer:
Who is Suggs?

suggs - i'm only sleeping - (vhsrip) - vcd - [jeffz].mpg

Suggs is a singer-songwriter, radio personality and actor, best known for being the frontman of Madness for over 40 years.

In 1976, Mike Barson, Chris Foreman and Lee Thompson formed the North London Invaders, which later became Madness. They then recruited John Hasler, Cathal Smyth and singer Dikron Tulane.

In 1977, Suggs took over as the lead singer and Tulane left the band.

He has also had a solo career, presented various TV and radio shows, written a couple of books, and acted in a number of films and TV shows.

What is Suggs' real name and how did he get his nickname?

Suggs' real name is Graham McPherson.

He got his nickname from randomly sticking a pin in an encyclopaedia of jazz musicians, and hitting Peter Suggs. This happened while still at school, to avoid being labelled as a member of an ethnic minority due to his Scottish name.

He even created a myth about it, writing lines like "Suggs is our leader" on the walls of the school, and only answering to that name.

Suggs age: How old is he and who was his father?

Suggs was born on January 13, 1961. He celebrated his 61st birthday in 2022.

He was born in Hastings, Sussex, to William Rutherford McPherson (1935–1975) and jazz singer Edith Gower.

The couple married in Paddington in 1960, and Suggs was raised in Hastings by his mother. His father had left by the time Suggs was three.

Speaking in 2009 before learning that his father had died decades ago, Suggs said: "I don't know, but what I've heard hasn't been good: heroin, injecting his eyeballs with paraffin, being sectioned. He must be dead now. I mean, he would have got in touch if he was alive, wouldn't he? Yeah, he must be dead, poor bugger."

Suggs learned of his father's death in 2012, after reading his own Wikipedia entry.

Suggs wife and children: Is he married?

Suggs and Bette Bright in 2014. Picture: Getty

Suggs is married to singer Bette Bright, who is the singer of the 1970s British band Deaf School.

They met through their mutual friend Clive Langer, and married in 1981.

They have two daughters: Scarlett and Viva.