Susanna Hoffs facts: Bangles star's age, husband and solo career revealed
25 April 2019, 16:36 | Updated: 25 April 2019, 16:37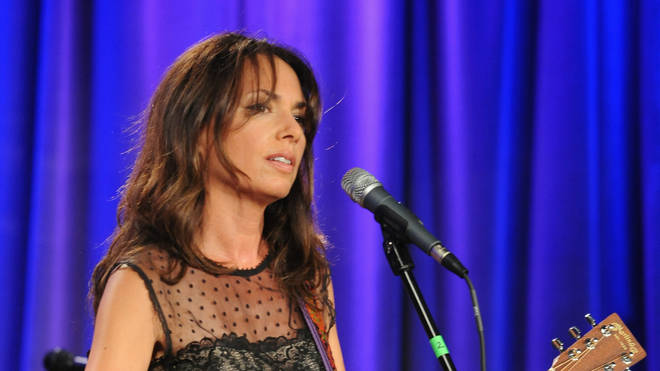 Susanna Hoffs was one of the true '80s heroes when it came to pop-rock and female empowerment.
As a member of The Bangles, she sung on many big hits including 'Eternal Flame' and 'Walk Like an Egyptian', and she and her band are still performing on and off over 30 years later.
Here are all the important facts about the legendary singer and guitarist:
Who is Susanna Hoffs?

The Bangles in 1988 (Hoffs second from left). Picture: Getty

Susanna Hoffs is an American singer, guitarist and actress, best known as a co-founder of The Bangles.

Inspired by The Ramones and other punk bands of the 1970s, Hoffs founded The Bangs with Debbi Peterson and Vicki Peterson.

The night before their first album was produced, a different band of the same name required them to alter theirs, and they became The Bangles.

The Bangles went on to become of the most successful bands of the '80s, with hits including 'Eternal Flame', 'Walk Like an Egyptian', and 'Manic Monday'.

Susanna Hoffs age: How old is she?

Susanna Hoffs in 2019. Picture: Getty

Amazingly, Susanna celebrated her 60th birthday in 2019.

She was born in Los Angeles, California, to a Jewish family. Her mother is film director Tamar Ruth and her father is Joshua Allen Hoffs, a psychoanalyst.

She was inspired to become a musician after her mother played Beatles music for her when she was a child, and she began playing guitar in her teenage years.

Susanna Hoffs solo career: Has she released any music?

Outside The Bangles, Hoffs released her debut solo album, When You're a Boy, in 1991. Its lead single 'My Side of the Bed' was a minor hit, reaching 44 in the UK.

She recorded a second album in 1993-94, but it was never released. In 1996, Hoffs released her second solo album, Susanna Hoffs. This featured a cover of the Lightning Seeds single 'All I Want'.

Hoffs recorded a cover of 'The Look of Love' for the soundtrack of the first Austin Powers movie, and a cover of 'Alfie' for the third movie of the series.

Her third solo album Someday came out in 2012. It was self-released and was influenced by the music of the 1960s.

Susanna Hoffs husband: Is she married?

Susanna Hoffs and her family. Picture: Getty

In 1993, Hoffs married Jay Roach, who later directed the Austin Powers trilogy, Meet the Parents and Meet The Fockers.

They have two sons together: Sam and Jackson Roach.