Who is Amy Winehouse's ex-husband Blake Fielder-Civil?
20 July 2021, 16:29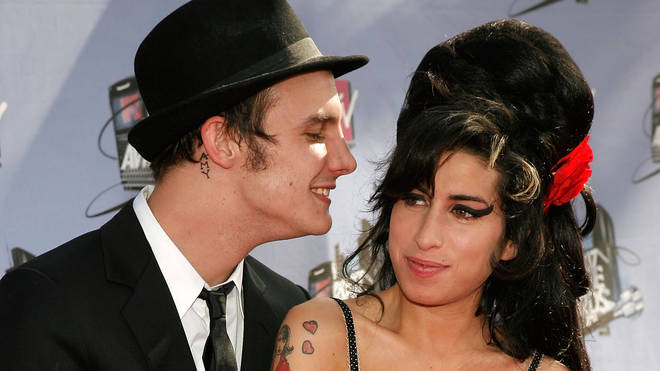 Amy Winehouse's most impactful relationship was her marriage to partner Blake Fielder-Civil.
Although only married for a couple of years, Amy Winehouse's relationship with Fielder-Civil was a defining period of her life, that was tragically ended far too soon.
But where is Blake Fielder-Civil now and when were the couple married?
Who is Amy Winehouse's ex-husband Blake Fielder-Civil and how did they meet?

Around 2003, Amy met Blake Fielder-Civil, an addict who quickly became a chaotic focus of the singer.

Her first manager Nick Godwyn told The Times in 2007 that "Amy changed overnight after she met Blake. She just sounded completely different. Her personality became more distant.

"And it seemed to me like that was down to the drugs. When I met her she smoked weed but she thought the people who took class-A drugs were stupid. She used to laugh at them."

Amy Winehouse and husband Blake Fielder-Civil in 2007. Picture: Getty

It was Blake who introduced Amy to heroin and other hard drugs, and they got tattoos of each other's names. Their relationship was on-and- due to his infidelities and various periods in prison.

"If you're a musician, and you have things you want to get out, you write music," she told The Guardian in 2006. "You don't want to be settled, because when you're settled you might as well call it a day."

They eventually married at a secret ceremony in Miami in May 2007.

However, the relationship ended when Fielder-Civil was sentenced to 27 months in jail for trying to pervert the course of justice and of grievous bodily harm.

Where is Blake Fielder-Civil now?

Blake Fielder-Civil later married again, to his current partner Sarah Aspin.

He was already romantically involved with Aspin before meeting Amy, and has two children with her.

One year after Amy's death in 2011, Aspin helped Fielder-Civil after he was rushed to hospital in Dewsbury.

He had suffered from multiple organ failure after overdosing on alcohol and drugs.

In recent times, he appeared on Good Morning Britain on late 2018 to share his concern over Amy's father Mitch Winehouse's plans to stage a hologram tour.

He said: "The way I feel about the actual hologram itself it's no different to watching a video clip or listening to her music.

"I object to every sort of opportunity that's been made, it seems since Amy passed away seven years ago there's been three films, a hologram tour, to me I can't see many other reasons for this tour."

Recently speaking to OK!, Amy's mother Janis said she no longer blames him for her daughter's death, after he introduced her to heroin.

"When it comes to Blake, I've decided never to speak badly about anyone", she said. "I know it was about love and I don't think you can judge when it comes to love. Love does the walking and talking.

"I believe the relationship between Amy and Blake was intimate and genuine. Their marriage was impulsive but it was still pure. It was obviously a complicated relationship but love was at the heart of it."