Pretty Woman: The Musical to launch with music by Bryan Adams - here's how to get tickets
9 September 2019, 12:55 | Updated: 9 September 2019, 15:40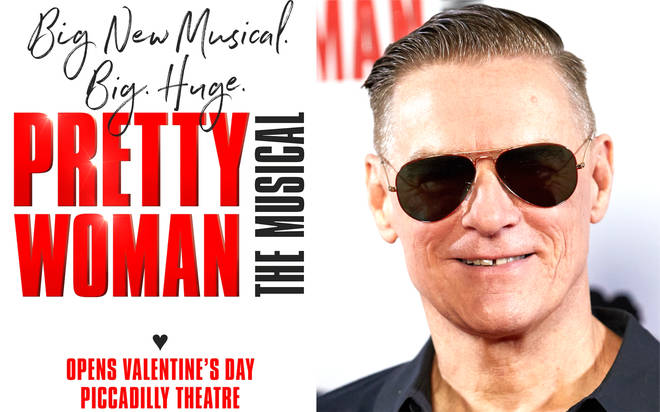 Pretty Woman won over film fans in 1990 with Julia Roberts and Richard Gere in the lead roles, but now it has been confirmed the West End will be getting its very own Pretty Woman musical show.
When it was released, the film became the third highest-grossing film worldwide that year - could it find the same success in theatre-land?
Pretty Woman: The Musical will start from Valentine's Day 2020 at London's Piccadilly Theatre for 46 weeks.
Tickets go on sale on Friday (September 13), with further casting details to be announced soon.
The musical will feature original music and lyrics by Bryan Adams and Jim Vallance.
Adam Speers of Ambassador Theatre Group Productions said: "The West End loves a big night out and none come bigger than this new production re-telling the iconic and much loved movie.
"The UK has rocked to the legendary work of Bryan Adams and Jim Vallance for decades and we cannot wait to welcome audiences to the show."
Film producer Paula Wagner said: "It is really wonderful that UK audiences will get to experience Pretty Woman: The Musical at the Piccadilly Theatre next year.
"Bryan and Jim's original score for the show brings an electric new dimension to Garry Marshall and J.F. Lawton's beloved film. We were so fortunate to have Garry working with J.F. on the book of the show.
"They really captured the essence of Pretty Woman, and along with Jerry's skilful direction and choreography, this classic love story really has become a great night out at the theatre. 2020 also marks 30 years since the release of the film, and I can't think of a better place than the Piccadilly Theatre to celebrate!"
The theatre script will come from Garry Marshall's book, with words from the film's screenwriter JF Lawton.
It will be directed and choreographed by the two-time Tony Award winner Jerry Mitchell.
While a UK cast has not yet been announced, Samantha Barks played Vivian in the broadway version of the show.
Samantha rose to fame after coming in third on the TV talent show series I'd Do Anything in 2008. Could she re-join the cast for the UK run?
To purchase tickets for Pretty Woman: The Musical, click here.