Andrew Ridgeley interview: 'Wham! weren't meant to last, we couldn't sing Bad Boys at 40'
10 October 2019, 11:53 | Updated: 16 July 2020, 14:31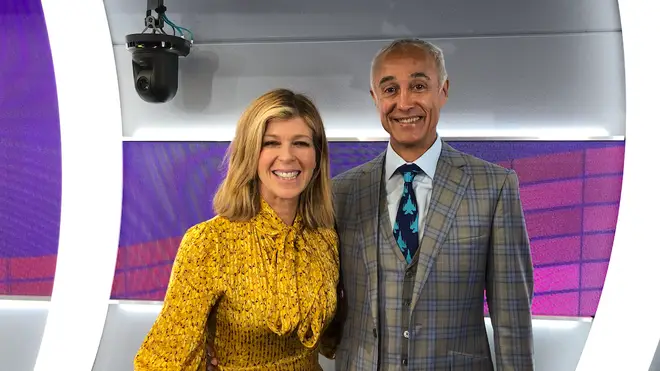 Andrew Ridgeley was one half of the biggest pop band of the early 1980s alongside his childhood pal George Michael.
The pair took over the pop world with their party anthems and heartfelt ballads, before splitting up in 1986.
While Andrew took a step back from music after this, George went on to become one of the world's biggest stars. However, their pair remained very close friends until George's death in 2016.
Andrew has now released an autobiography - George and Me - detailing their friendship and career together.
Smooth's Kate Garraway sat down with Andrew to chat about the book, and you can watch their full interview above.
When asked why now was the right time to get his story out, Andrew told Kate: "It was a combination of factors, largely in response to the tribute that Shirley and Pepsi and I gave [at the 2017 Brit Awards], and that outpouring of affection and goodwill towards George and Wham.
"And also because I felt that there was a generation, certainly in the audience that night at the O2, who perhaps weren't so aware of Wham! – and part of what made George – as our generation, and as my generation. And so I felt it would be good.
"And I felt that there was a slight danger that, for that generation, his legacy might always be defined by death, and by that. And I wanted to shift the perspective onto what was so life-affirming and vital and embodied the spirit of the energy, and part of what made George."
On when they realised it was time to split up as a band, he explained: "Wham! was always conceived as a project that… well, it wasn't conceived as a short-term project, but it became very apparent to us that it was always going to be a short-term project because it represented us and our youth. And it was an expression of our youth.
"And neither of us could see us taking that into proper adulthood. 'Bad Boys' wasn't going to be something that we were going to be standing on stage doing at 40 years old. We understood that that wasn't going to happen.
Wham! - Club Tropicana (Official Video)
"But also, George's songwriting was evolving and developing in a way, and at a pace, that the constraints and parameters imposed by Wham! and what it represented – i.e. youth and exuberance and vitality – were constraints that wouldn't allow his songwriting to develop, or for him to develop as an artist as he wanted to, and as he was going to.
"And so therefore the scale and the speed of Wham!'s success hastened us bringing the band to an end, and bringing that episode in our lives to an end. But certainly it was always going to happen, and it was something that we both recognised fairly early on in our career."
Asked if he misses George nearly three years since he passed away, Andrew said: "Yes. You know, I think anyone who knew him, anyone whose life he had any kind of influence upon, misses him.
"And as my dearest friend of my youth and beyond, I miss him perhaps as much as anyone. You don't expect your peers to start disappearing in what actually, in this day and age, is a relatively young age.
"You know, I thought my grandfather was old at 50-odd, but I don't feel old. And actually, it's not old these days."
Andrew Ridgeley's book George and Me is out now.