Madonna claims she was 'censored' after her London show was cut short
6 February 2020, 17:31
Madonna has hit out at the London Palladium after they allegedly tried to "censor" her by cutting short a concert, after she ran over her curfew cutoff on Wednesday night (February 5).
The singer was performing her Madame X show in London when the lights and sound were suddenly turned off and the curtain closed on her, after she went past her 11pm deadline.
Madonna later shared a video on Instagram, showing her trying to sing her final song in front of the curtain.
The Palladium had already warned her not to break the strict curfew cutoff time.
She wrote: "It was 5 minutes past our 11:00 curfew, we had one more song to do and The Palladium decided to censor us by pulling down the metal fire curtain that weighs nine tonnes.
"Fortunately they stopped it half way and no one was hurt. Many thanks to the entire audience who did not move and never left us. Power to the people!!"
The venue later denied that staff had used the fire curtain, but did not comment on whether the show was cut short.
"Contrary to a number of reports, at no point during last night's performance did staff at The London Palladium pull down, or attempt to pull down, the Iron Fire Curtain," a spokesperson responded to the singer.
Video footage appeared to confirm that it was just the main cloth curtains that were used, rather than the main iron fire curtain.
Madonna later came from behind the closed curtain with her backing dancers, while the crowd chanted her name. She performed her final song, 'I Rise', with the house lights turned on and her microphone switched off.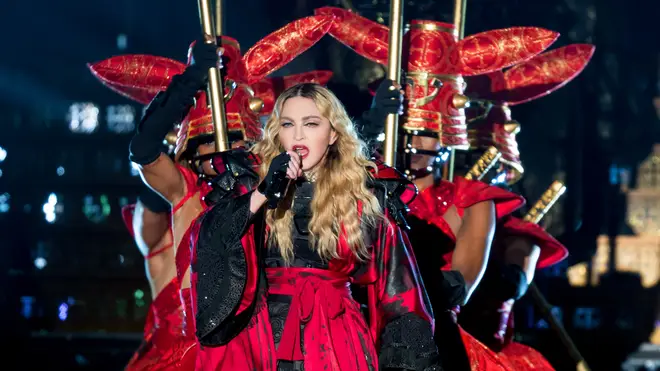 Her previous shows in America have ended much later than the London dates, with fans often waiting for several hours for the show to start.
Madonna has also cancelled 10 out of the 93 dates on her Madame X tour due to injury.