Madonna's 20 greatest songs ever, ranked
28 June 2023, 22:28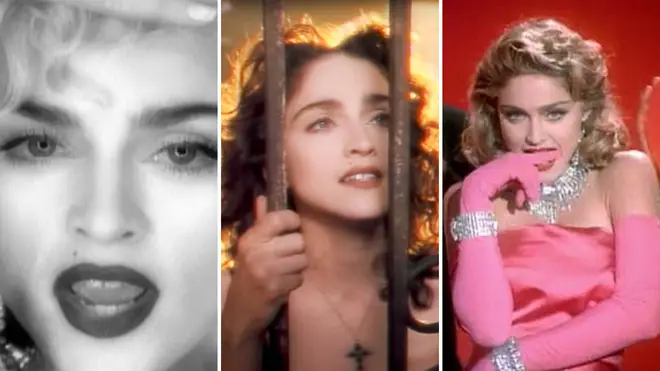 She's undoubtedly the most successful female solo artist of all time.
Madonna has sold over 300 million records worldwide (behind only The Beatles, Elvis Presley and Michael Jackson), and has morphed with the times over the decades.
We've picked our 20 all-time favourite Madonna tunes.
'Live to Tell' (1986)

This song was originally composed by Patrick Leonard for the score of the film Fire with Fire. After the instrumental was shown to Madonna, she decided to use it for then-husband Sean Penn's film At Close Range.

Madonna wrote the lyrics, co-composed the melodies, and co-produced it with Leonard, and it was released as the lead single from True Blue.

'Crazy for You' (1985)

Written by John Bettis and Jon Lind for the soundtrack album to Vision Quest, they decided to use the then-unknown Madonna after listening to her previous songs.

The song was written about the situation in which the lead characters meet at a nightclub. The song was nearly dropped from the soundtrack, but it ended up becoming one of Madonna's biggest hits and arguably the most famous thing about the film!

'Papa Don't Preach' (1986)

Madonna - Papa Don't Preach

This song's lyrics deal with teenage pregnancy and abortion, and were based on teen gossip songwriter Brian Elliot heard outside his recording studio.

A chart-topper in both the UK and US, the song caused heated discussions about its content. Women's organizations and others in the family planning sector criticized Madonna for encouraging teenage pregnancy, while anti-abortion groups opposed its pro-life message.

'Into the Groove' (1985)

MADONNA - INTO THE GROOVE (Official Music Video)

Madonna's inspiration behind this song was hitting the dance floor, and she wrote it while watching a Puerto Rican man across her balcony. Cheeky!

Initially written for her friend Mark Kamins, she later decided to use it for the soundtrack of her film Desperately Seeking Susan. It was her first number one single in the UK.

'Open Your Heart' (1986)

Madonna - Open Your Heart

Originally a rock and roll song titled 'Follow Your Heart', this was written for Cyndi Lauper.

Looking for new songs for True Blue, Madonna accepted it instead and rewrote the song. Along with Patrick Leonard, she changed the track for dance-pop fans, and it worked.

'Hung Up' (2005)

Madonna - Hung Up (Official Music Video)

This was a big comeback song for Madonna, taking her back to number one in the UK in 2005.

The song famously samples ABBA's 'Gimme! Gimme! Gimme! (A Man After Midnight)', for which Madonna personally sought permission from Benny Andersson and Björn Ulvaeus.

'You'll See' (1995)

This song's album was released with the intention of toning down Madonna's image, who was being heavily criticized for various reasons at the time.

She wrote and produced this song with Canadian musician David Foster as the album's lead single, and centres around the subject of independence after the end of a love affair.

'Ray of Light' (1998)

Madonna - Ray Of Light (Official Music Video)

This song about freedom is based on Curtiss Maldoon's 'Sepheryn', and had plenty of techno, trance, Eurodance, and disco influences.

It was nominated for three Grammy Awards: for Record of the Year, Best Dance Recording, and Best Short Form Music Video, winning the last two.

'Don't Tell Me' (2000)

Madonna - Don't Tell Me (Official Video)

Madonna co-wrote and co-produced the track with producer Mirwais, with additional writing from her brother-in-law, Joe Henry.

Originally written as a torch song by Henry called 'Stop', the demo was later sent to Madonna, who then re-worked it into a country-dance song, and is about Madonna asking her lover not to control her.

'Beautiful Stranger' (1999)

Madonna - Beautiful Stranger

This dance-pop track was used for the second Austin Powers movie, and she teamed up with Mike Myers for its tongue-in-cheek music video.

Madonna had been dating British writer Andy Bird, but after they split up, she wrote a version of this song inspired by him, which she left on Bird's answering machine. That's definitely one way to debut a song!

'La Isla Bonita' (1986)

Madonna - La Isla Bonita (Official Video)

The instrumental version of this song was first offered to Michael Jackson, before Madonna accepted it and wrote its lyrics and melody.

It was Madonna's first song to contain Latino influences, with the use of Cuban drums and Spanish guitar, maracas, and harmonicas. The track tells about a beautiful island and according to Madonna, was a tribute to the beauty of the Latinos.

'What It Feels Like for a Girl' (2000)

Madonna - What It Feels Like For A Girl

This ballad saw Monnda speak about society's double standard toward women, and addressed general hurtful myths about female inferiority.

To emphasize this message, the song opened with a spoken word sample by actress Charlotte Gainsbourg from the 1993 film, The Cement Garden.

'Oh Father' (1989)

This ballad didn't come out as a single in most European countries until its inclusion on the Something to Remember compilation in 1995. The lyrics deal with the presence of male authoritative figures in Madonna's life, most prominently her father, Tony Ciccone.

Her relationship with her father had soured, after her mother's death in 1963 and his remarriage two years later. David Fincher directed its black-and-white video. She said: "I just wrote the song, it's up to others to interpret them to mean what they want them to mean."

'Frozen' (1998)

This electronica ballad gave Madonna another number one single in the UK.

In 2005, a judge in Belgium ruled that the song had been plagiarized from a song by Salvatore Acquaviva, and it was banned! However, the ruling was overturned in 2014.

'Borderline' (1984)

Madonna - Borderline (Official Music Video)

One of Madonna's first ever songs, this track was written by her debut album's producer Reggie Lucas. However, after recording the song, Madonna was unhappy with the final version, feeling that Lucas used too many instruments.

This led to a dispute between the two, and Lucas left the project without altering the songs to Madonna's specifications. She then brought her then-boyfriend John 'Jellybean' Benitez to remix the song, and it became a big hit.

'Take a Bow' (1994)

This ballad was co-produced and written by R&B singer Babyface. Following the sexually explicit persona portrayed by Madonna on her previous album Erotica, she wanted to tone down her image for Bedtime Stories.

Containing oriental pentatonic strings, giving the impression of Chinese or Japanese opera, it lyrically talks about unrequited love, and Madonna saying goodbye. It reached number one in the US, and was used in the season 2 finale of Friends, when Rachel goes to the airport to tell Ross that she knows he is in love with her.

'Vogue' (1990)

Known for its iconic video, Madonna was inspired by vogue dancers from the Harlem 'House Ball' community, and they introduced 'Vogueing' to her at the Sound Factory club in New York City.

The track contains a famous spoken section, in which Madonna name-checks various golden-era Hollywood celebrities. The song is about enjoying oneself on the dance floor no matter who they are.

'Like a Virgin' (1984)

Produced by Nile Rodgers, this song was inspired by co-writer Billy Steinberg about his personal experiences of romance.

The track was chosen for Madonna by Michael Ostin of Warner Bros Records after listening to a demo sung by songwriter Tom Kelly. While Rodgers initially didn't think the song had a sufficient hook and was not suitable for Madonna, he later changed his mind after it became stuck in his head.

'Material Girl' (1984)

Madonna - Material Girl (Official Music Video)

Also produced by Nile Rodgers, Madonna explained that the concept was indicative of her life at that time. She felt that 'Material Girl' was provocative in its subject matter and she was instantly attracted to it.

Its famous music video was a parody of Marilyn Monroe's performance of 'Diamonds Are a Girl's Best Friend' from the 1953 film Gentlemen Prefer Blondes.

'Like a Prayer' (1989)

Madonna - Like A Prayer (Official Music Video)

Written and produced by Madonna and Patrick Leonard, this track saw Madonna enter a new artistic and personal approach to songwriting, as she believed that she needed to cater more to her adult audience. The song speaks about a passionate young girl in love with God, who becomes the only male figure in her life.

The music video sees Madonna as a witness to the murder of a girl by white supremacists. While a black man is arrested for the murder, Madonna hides in a church, and it also features a dream sequence about kissing a black saint.

The Vatican condemned the video, while family and religious groups also protested its broadcast. They also boycotted Pepsi, who had used the song in their commercial campaign. All the fuss did was make Madonna an even bigger star.