A Star is Born: See all the trailers for every version of the Hollywood classic
27 September 2018, 16:48 | Updated: 27 September 2018, 16:56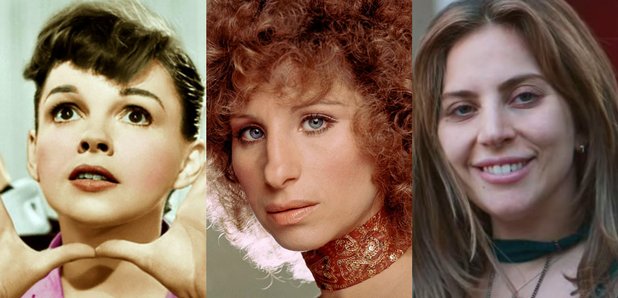 A Star is Born is a story many generations have loved over the past 85 years.
The tale is a combination of showbiz, success, tragedy, romance and loss.
The two stars at the centre of the story on two different career paths: one is on the way down, one has only just started. Oh, and they just so happen to be in love with each other.
A brand new version of A Star is Born is released on October 3, starring Bradley Cooper and Lady Gaga as Jackson and Ally.
Let's have a look at all the previous versions:
1. A Star is Born (1976)
This version is probably the closest in style to the 2018 film, as it focuses on singers rather than movie stars.
Barbra Streisand and Kris Kristofferson star in the film (often appearing with little clothing on!) as Esther and John.
John is at the height of his fame, but is close to seeing his career nosedive, in contrast to Esther's bright spark.
The trailer also features the film's main theme 'Evergreen' sung by Streisand, a song she co-wrote with Paul Williams and won them an Oscar.
2. A Star is Born (1954)
This classic was seen as Judy Garland's big comeback at the time, as it was her first film in four years, after a time of personal struggles.
James Mason plays her opposite in the film, but the trailer is all about Garland and her powerful voice.
'The Man that Got Away' was nominated for an Oscar for Best Song, but didn't win at the time.
3. A Star is Born (1937)
This was a popular Technicolor production from director David O Selznick, and was the first version of A Star Is Born.
However, this film was not a musical, though its main plot follows the same structure as the others that would follow.
Janet Gaynor and Fredric March star as Esther and Norman, in a story that was partly written by Dorothy Parker.
The trailer carries a chilling voiceover, saying, "You will be shocked by the price that must be paid in heartbreak and tears for every moment of triumph in Hollywood".